Dog Breed Personal Checks
Dog lovers rejoice! Order personal checks online with pictures of your favorite dogs printed on them!
With styles featuring over 100 different breeds, we offer the largest selection of dog and puppy checks on the entire internet. All for the same price or less than what your bank would charge you for generic personal checks.
---
Puppy Dog Eyes Checks
4 closeup photos of puppies.
---

Sneaker Pups by Keith Kimberlin
4 alternating images of puppies sitting inside a sneaker with paw print background..
---

Playful Paw Prints Checks
This series of dog lover checks features several paw printe patterns..
---

ASPCA Dog Personal Checks
Each book of personal checks features rotating images of four different dogs..
---

Pug The Dog Checks
4 cute close-ups. Click to see them all! Matching checkbook cover and labels also available..
---
Animated Dog Personal Checks
These animated dogs are making funny expressions with their faces, tongues, and eyes. Each of the four images contain a different breed of dog, from the Chihuahua, to the poodle, to the Boston terrier.
---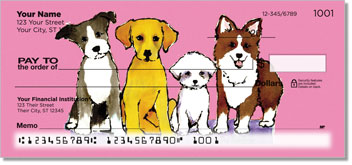 WAT Dog Art Checks
4 colorful illustrations of adult dogs and puppies of various breeds... the perfect check design for any dog lover!
---
Check out our cute DOG BREED GRAPHICS for your Myspace profile or Personal Blog pages.
---
Choose from the menu at top right of page for many more dog breed themed personal check designs!
---