Baby Bird Checks
Order Baby Bird personal checks online in a variety of stylish designs! These Baby Bird bank checks can be used with any U.S. bank account, and are priced the same or less than what your bank would charge you for their generic checks.
Checkbook covers and return address labels are also available to match most of these Baby Bird check designs.
---

Baby Birds
The beautiful images displayed on the Baby Birds Personal Checks will bring you up close and personal with Nature at its very best. These intimate photos depict a variety of birds with their young. Four displays showcase: a red bird perched on the side of a nest with little babies reaching up for food, a pair of blue birds with yellow breasts hovering over their young, a pretty yellow bird feeding its baby and another pair of pale orange birds protecting their babies. For those who are into bird watching or feeding the birds in their yards, these Baby Birds Personal Checks will be a hit..
---

Baby Birds Personal Checks
Baby Birds Personal Checks - These unusual Bird Checks are sure to add an element of fun to your wallet!.
---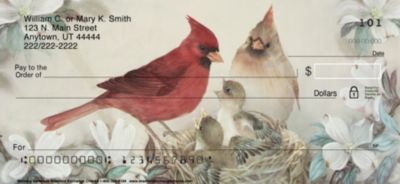 Lena Liu's Morning Serenade Checks
Nature Wild Bird Checks Celebrate Family in Exclusive Lena Liu Artistic Bird and Flower Checks - Devotion, harmony, tenderness...this is how a family blossoms in nature! While fragrant flowers bloom, cheerful songbirds nest and nurture their fast-growing families. As seen through the eyes of Hall of Fame Artist Lena Liu, these wondrous events are infinitely more beautiful because they celebrate the simple joys of family. Now, Bradford Exchange Checks exclusively showcases some of Lena Liu's most highly acclaimed wild bird and flower art on this beautiful nature check design collection. Each personal check depicts a different wild bird family, their dazzling hues of cardinal red and goldfinch yellow captured in Lena Liu's romantic watercolor-on-silk style. Lena Liu's Morning Serenade personal nature wild bird and flower art check designs are available exclusively from Bradford Exchange Checks, and are expertly re-created with premium-quality check printing. Carry these exclusive Lena Liu artistic bird checks with you to cherish a world of silky-soft flowers, brightly-colored wild birds, and the beauty of nature in its purest form. Order your Lena Liu's Morning Serenade personal nature wild bird and flower art check designs now! Pricing shown is for 2 boxes of Singles..
---

The Nest Personal Checks
The Nest Personal Checks - Bring a springtime feeling into the room each time you open up your checkbook with these delightful little birds as they eagerly await their next meal. Share these lovely and interesting designs with each Nest Personal Check you write!.
Check our our fabulous selection of DOG JEWELRY ~ Dog Breed-Themed necklaces, bracelets, watches, and more! Also STUFFED ANIMALS plush toy dogs in your choice of breeds!
---