Big Cat Checks
Order Big Cat personal checks online in a variety of stylish designs! These Big Cat bank checks can be used with any U.S. bank account, and are priced the same or less than what your bank would charge you for their generic checks.
Checkbook covers and return address labels are also available to match most of these Big Cat check designs.
---

Big & Bold Cats Checks
Hear the call of the wild with this big cat personal check series with unique scenes of panther, tiger, lion and stunning leopard..
---

Big Cat Babies Personal Checks
Big Cat Babies Personal Checks - The cutest cubs in the wild are softly portrayed in this series of personal bank checks.With tiny spots and fluffy coats, these tiny cubs are sure to bring out your soft side. Any animal or cat lover are sure to enjoy this set of personal checks! .
---

Big Cat Cubs
You just can't help love these cute faces of these sweet exotic baby cats. 4 great images to enjoy..
---

Big Cat In Winter Personal Checks
Lynx Checks - These artistically painted lynx in winter personal checks are the perfect way to celebrate the seasons' change. Professionally drawn and rendered in vibrant colors, these accentuated backdrops pop off the page! Have some fun with these wilderness animals personal checks!.
---

Big Cats Personal Checks
Big Cats Checks - Even if you've never been on one, these big cat personal checks are ready to escort you on an African safari! Celebrate natures most fearsome felines with these exotically designed checks. Professionally shot and rendered, these four breathtaking scenes inspire respect! These kitties will make you purr!.
---

Defenders of Wildlife - Big Cats Personal Checks
Following their natural instincts, these North American wildcats stealthily search for prey. The Check Gallery proudly supports Defenders' efforts to protect all native wild animals and plants in their natural communities.size=1>Photography by Robert Winslow and Michele Burgess..
---

Kat Kraze Personal Checks - 4 scenes
Photography Copyright: 2009 Zoological Society of San Diego. The 100-acre San Diego Zoo is dedicated to the conservation of endangered species and their habitats. The organization focuses on conservation and research work around the globe, educates millions of individuals a year about wildlife and maintains accredited horticultural, animal, library and photo collections. We believe that even one endangered species is one too many. For more information about the San Diego Zoo, please visit the Web site at.
---

Spotty Fellas
Big wild cats are featured in this spot-inspired personalized check series..
---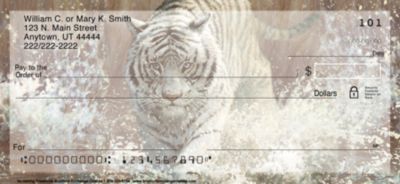 Vanishing Treasures - 4 Images
Tiger Checks Capture the Power of Big Cats in Wildlife Personal Checks of Breathtaking Artistry - Green eyes flash with sudden intensity, and the massive head lowers as over six hundred pounds of ferocious power prepares to unleash its lethal force. Suddenly, the magnificent tiger explodes from hiding in an incredible show of stealth and strength. It's a moment full of intensity and energy that only a master artisan like John Seerey-Lester could envision with integrity. Now, Bradford Exchange Checks exclusively presents four of John Seerey-Lester's most highly-sought big cat portraits of the elusive lord of the wild, the tiger. Featuring both the Bengal tiger and the rarest of all big cats, the white tiger, his award-winning artistry captures every thrilling nuance of a living tiger's sinewy power, explosive energy and mesmerizing gaze. The Vanishing Treasures artistic personal tiger checks are available exclusively from Bradford Exchange Checks, and are expertly re-created with premium-quality check printing. Carry these tiger wildlife checks with you to show that these endangered big cats will forever reign supreme in your heart - order your Vanishing Treasures artistic personal tiger checks now! Pricing shown is for 2 boxes of Singles..
Check our our fabulous selection of DOG JEWELRY ~ Dog Breed-Themed necklaces, bracelets, watches, and more! Also STUFFED ANIMALS plush toy dogs in your choice of breeds!
---