Cardinal Checks
Order Cardinal personal checks online in a variety of stylish designs! These Cardinal bank checks can be used with any U.S. bank account, and are priced the same or less than what your bank would charge you for their generic checks.
Checkbook covers and return address labels are also available to match most of these Cardinal check designs.
---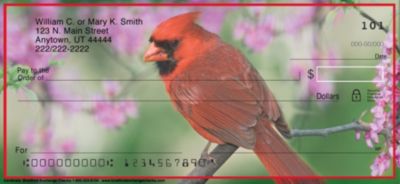 Cardinals
Cardinal Checks Are a Real Tweet! - The Northern Cardinal may be known as the redbird or common cardinal, but their colorful plumage makes them anything but ordinary! Make the Cardinal's beauty a special part of every day with these Cardinal bird checks from Bradford Exchange Checks! Each of the four breathtaking check designs feature full-color images of Northern Cardinals. Enjoy visions of Cardinals among flowers, snow and birdfeeders with each use. Plus, you'll find these Cardinal checks are just as practical as they are beautiful. Brought to you exclusively by Bradford Exchange Checks, they're expertly re-created with premium-quality check printing. Don't miss this wonderful chance to enjoy the beauty of the Cardinal daily - get your Cardinal bird personal checks as soon as possible! Order now! Pricing shown is for 2 boxes of Singles..
---

Cardinals Personal Checks
Cardinal Personal Checks - These beautiful checks really show off the stunning beauty of the Cardinal. These robust seed eating birds have strong bills and are normally found in North and South America. If you admire these delightful and colorful birds, share them with everyone when you write out your next Cardinals Personal Check!.
---

Goldfinch and Cardinal Personal Checks
.
---

Outside My Window Personal Checks
Outside My Window Personal Checks - This fascinating little cardinal is just waiting outside of your window just like a little statue on a limb. When a female cardinal sings from the nest it may be a sign to the male that she is in need of food. So, perhaps this guy is out grocery shopping for his lady friend. Enjoy these images on the next check you write out!.
---

Red Cardinal Birds
Artistic striking red Cardinal Birds are the feature of this bird-lover's personal check series..
---

Redbird Personal Checks
Charming and colorful cardinals adorn this lovely style of personal checks. Click to take a look!.
Check our our fabulous selection of DOG JEWELRY ~ Dog Breed-Themed necklaces, bracelets, watches, and more! Also STUFFED ANIMALS plush toy dogs in your choice of breeds!
---