Chicken Checks
Order Chicken personal checks online in a variety of stylish designs! These Chicken bank checks can be used with any U.S. bank account, and are priced the same or less than what your bank would charge you for their generic checks.
Checkbook covers and return address labels are also available to match most of these Chicken check designs.
---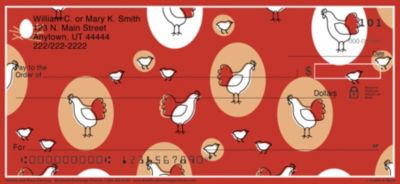 Challis & Roos American Farmhouse Checks - 4 scenes
Farm Art Checks Celebrate Farm Life in the Style of Challis & Roos - With blue skies and plentiful fields, is anything better than life on a farm? Celebrate the good life with these Challis & Roos personal check designs from Bradford Exchange Checks! Four dynamic designs artistically capture life on a farm with visions of chickens, cows, tractors and more before a background of farmhouse red or sky blue.Plus, you'll find these Challis & Roos personal check designs are just as practical as they are playful. Brought to you exclusively by Bradford Exchange Checks, they're expertly re-created with premium-quality check printing. Don't miss this terrific chance to celebrate farm living - get your Challis & Roos American Farmhouse checks as soon as possible! Order now! Pricing shown is for 2 boxes of Singles..
---

Chatty Chicken Personal Checks
Click to see a funny personal check design featuring hens with hilarious things to say. Get yours today!.
---

Chickens Personal Checks
Chickens Personal Checks - Roosters, hens and eggs- oh my! Your favorite barnyard friends are here to give your bank book a little country charm. These four personalized bank checks give you a glimpse into the farm life with four quaint images of chickens and roosters. Go country with this series of checks dedicated to life on the farm! .
---

Farm Fresh Eggs Personal Checks
Farm Fresh Eggs Personal Checks - The artistic use of light and shadow, combined with the bold design element make these abstract egg checks a conversation piece! Start your day sunny side up, with these fun Farm Fresh Eggs Personal Checks!.
---

Funky Chicken Personal Checks
Click to see funny personal checks featuring cartoon chickens that will give you a chuckle!.
---

Hen House Personal Checks
Hen House Personal Checks - Hen House Checks - There is no pecking order with these farm inspired professionally photographed personal checks. Each image is reminiscent of days gone by when a hen house was found on almost every farmstead. Let these ladies bring the country out in you..
---

Kay Smith Chicken Personal Checks
For fabulous watercolor designs with colorful chickens, check out the art of Kay Smith on our personal checks..
---

Now What Do I Do Personal Checks
Now What Do I Do Personal Checks - These adorable personal bank checks are perfect for anyone who is looking a challenge in the eye! A little freshly-hatched chickie is new to the world and is asking that all important question - "Now What Do I Do"! Cuddle up to these adorable bank checks, and watch people smile with every check you write! .
---

Roosters & Hens Checks
These food-giving fowls have been an indispensable member of farm breeds. They are the center of poultry products, and these four check designs pay homage to their significance in our lives. Go country with this series of personal checks dedicated to life on the farm..
---

Spring Chicks Personal Checks
Spring Chicks Personal Checks - Fluff up your personal checks with these chirpy chicks! Some of the cutest of the barnyard babies, baby chickens are soft and cuddly and impossible to resist. The chick's hatch from the egg symbolizes new life and a new season. This downy duo, lounging in fresh green grass is sure to add some springtime sunshine to your wallet.
---

Womack Chicken Personal Checks
.
Check our our fabulous selection of DOG JEWELRY ~ Dog Breed-Themed necklaces, bracelets, watches, and more! Also STUFFED ANIMALS plush toy dogs in your choice of breeds!
---