Cow Checks
Order Cow personal checks online in a variety of stylish designs! These Cow bank checks can be used with any U.S. bank account, and are priced the same or less than what your bank would charge you for their generic checks.
Checkbook covers and return address labels are also available to match most of these Cow check designs.
---

A Cow's Life Personal Checks
Cow Personal Checks - These fun loving designs are just precious and feature our admiration for a "cow's life". The sayings, "Calving", "Cow Pies", "Bull Market", and "Grazing" pair perfectly with the light hearted illustrations and are sure to get a Moo or two with every check you write out!.
---

Artsy Cows Personal Checks
Artsy Cows Personal Checks - Moo-ve over debit cards, these cows are making checks cool again. The funky geometrical illustrations on these farming checks make them stand out from the herd..
---

Baby Calves Personal Checks
Baby Calves Personal Checks - Nothing is cuter than a brand new baby calf, and this check series is loaded with them! Show off your new herd with these "new addition" checks.
---

Black Angus Cows & Calves
This stunning personal check series proudly displays four different scenes of Black Angus Cows and their calves. Share your appreciation for these amazing animals with these beautiful checks..
---

Bonding Baby Calves
Bonding Baby Calves Personal Checks feature four rotating images of baby calves and their mothers laying in a field. Calves are slaughtered for their meat, called veal..
---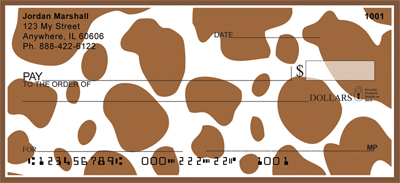 Brown Cow Print
How now, brown cow! This fun and playful personal check series pays tribute to our favorite farm friend - the cow! Brown cow patterns dance across four different scenes in this set.Matching address labels and coordinating checkbook covers are also available..
---

Cattle On Western Prairie Personal Checks
Cow Checks - Cattle On The Western Plains Personal Checks is a four check series featuring Herford cattle on the western plains of the US. These beautiful checks show the natural sage brush and soapweeds found in the Southwest as a backdrop to the beautiful Herfords that are featured in these checks..
---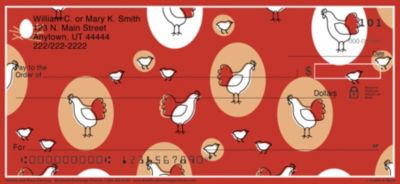 Challis & Roos American Farmhouse - 4 scenes
Farm Art Checks Celebrate Farm Life in the Style of Challis & Roos - With blue skies and plentiful fields, is anything better than life on a farm? Celebrate the good life with these Challis & Roos personal check designs from Bradford Exchange Checks! Four dynamic designs artistically capture life on a farm with visions of chickens, cows, tractors and more before a background of farmhouse red or sky blue.Plus, you'll find these Challis & Roos personal check designs are just as practical as they are playful. Brought to you exclusively by Bradford Exchange Checks, they're expertly re-created with premium-quality check printing. Don't miss this terrific chance to celebrate farm living - get your Challis & Roos American Farmhouse checks as soon as possible! Order now! Pricing shown is for 2 boxes of Singles..
---

Cow and Baby Calf
Head to the American Heartland and witness the tender moments between cow and baby calf in this 4-scene personalized check series..
---

Cow Portraits Personal Checks
Cow Portraits Personal Checks - These breathtaking photos really capture the personality and life of a cow in their natural habitat. Every one of the designs features a different cow and scenery and do a very good job of illustrating and depicting what home on the range is really like for these creatures. .
---

Cow Prints in Black and White Personal Checks
Cow Prints in Black and White Personal Checks - Make your moo-la stand out with these unique personal checks! Each of the four backgrounds features a different black and white cow hide inspired design. You don't have to be a farmer or cowboy to love these; you just have to want something different and fun in your wallet.
---

Cows & Calves
Beautiful bovines make their way across 4 stunning scenes in this personal check series. Black, white, brown and others grace these pages to brighten your day..
---

Cows Up Close
Moooo-ve over ordinary checks! These cow-inspired personal checks are anything but plain. Have a cow on every scene..
---

Cows With Calves Personal Checks
Cows With Calves Personal Checks - Nothing is more precious than a new born calf with his mother in the springtime! Remind yourself that all is right with the world and life goes on when you sign your name on these inspiring checks! .
---

Cute Cow Personal Checks
Get cute cartoon cows on your new personal checks. Click to see just how cute a cow can be!.
---
---
---

Funky Angel Or Devil Personal Checks
Funky Angel Or Devil Personal Checks - Cartoon-like angelic cows with halos and harps offset the check designs that featue the devilish cows with pitchfork and pointed tails! The age old choice - Angel or Devil... Put these fun checks into your wallet and then decide!.
---

Grazing Cattle In Tall Grass Personal Checks
Cow Personal Checks - Rich grassland and a fresh water hole create a perfect setting for this lovely four check series. You don't have to be a cattle rancher to appreciate the serenity in this pastoral setting..
---

Grazing Cattle Personal Checks
Grazing Cattle Personal Checks - The foothills in the fall or the spring create a pastoral setting that inspires this four check series. Each check in the series features a beautiful scene with cattle grazing peacefully. Enjoy the fall leaves, the snow-capped mountains, and the new spring grasses as you write your checks! .
---

Grazing The Foothills Personal Checks
Grazing The Foothills Personal Checks - Holy Cow! Animal lovers everywhere will fall in love with these personal bank checks featuring two young cows playing tag in a summer field. The way these cattle play together is adorable to watch, and dare I say, moo-ving! Make these cute personal bank checks yours! .
---

Highland Cow With Newborn Calf Personal Checks
Highland Cow Personal Checks - These touching checks capture the loving protection that a new mother has for her little calf. You don't have to be a rancher or own cattle to appreciate these beautiful images. Enjoy!.
---

Holstein Cowhides Personal Checks
Holstein Cowhides Personal Checks - Animal Prints are no longer limited to exotic animals, and the popularity of these Holstein Cow Print Personal Checks is proof! Make a fashion statement with fun Holstein Cow Hide Personal Checks! .
---

Holy Cow Personal Checks
Cow Checks - Holy heifer! These spotted cow personal checks are dairy different! Another addition to our farm animal personal checks, this check series functions perfectly for any person or business associated with the farm or farm animals in general. Celebrate traditional Americana with these dairy personal checks..
---

Holy Cow Prints Personal Checks
Cow Prints Personal Checks - Take a trip out to the barn yard and corral some of these spirited Cow Prints for your personal check collection! These fun animal print checks are a down home twist of other popular animal prints! Giddy-up!.
---

How Now Brown Cow Prints Personal Checks
Brown Cow Prints Personal Checks - These gorgeous brown cow skinned personal checks are the perfect compliment to your checkbook! Share the How Now Brown Cow with every personal check you write out!.
---
---

Kay Smith Cow Personal Checks
Get personal checks with watercolor designs of adorable checks today! Paintings by artist Kay Smith..
---

Milk Cows Personal Checks
Milk Cows Personal Checks - If milk does the body good then imagine what these cow themed personal bank checks can do for you! Cows walking in a line near a big red barn on the farm is an image that anyone who can relate to the farm life would love to carry around in their checkbook! .
---

Moo Cow Rainbows Personal Checks
Cow Personal Checks - These fun loving characters really show the bright side of a cow! They are sure to brighten and add cheer to every check you write. Whether you want to add a little color to your checkbook or maybe a smile, these light-hearted designs are sure to do the trick!.
---

Moo Money Checks
A fun-loving brightly checked border frames a cowhide background for this check design featuring comical cow characters. Coordinating address labels and checkbook cover are available..
---

Spotted Cowhides
Moo moo mooove on these popular personalized check series full of bovine furry fun. Browns, black and whites are included in this spotted design..
---

Udderly Awesome Cow Prints
Seeing spots? You bet! This personal check series proudly pairs bold black and white cow patterned prints with bright blue, yellow, green and pink side borders. Sure to appeal to your 'dairy' good side and get you noticed!.
---

With Baby Calves Personal Checks
Cow and Calf Personal Checks - These farm animals know how to spread the love! This series celebrates a caw and her calf enjoying the splendor of another day on the farm. These personal checks are perfect for the farm and farmlife animal enthusiast! .
Check our our fabulous selection of DOG JEWELRY ~ Dog Breed-Themed necklaces, bracelets, watches, and more! Also STUFFED ANIMALS plush toy dogs in your choice of breeds!
---