Dinosaur Checks
Order Dinosaur personal checks online in a variety of stylish designs! These Dinosaur bank checks can be used with any U.S. bank account, and are priced the same or less than what your bank would charge you for their generic checks.
Checkbook covers and return address labels are also available to match most of these Dinosaur check designs.
---

Cute & Friendly Dinosaurs Personal Checks
Dinosaurs Personal Checks - Cute and friendly may not be the way you typically think of dinosaurs, but you will now! This series of four features artistic drawings of history's favorite fossils. Jurassic park will find its way into your checkbook! .
---

Cute Dino Personal Checks
The adorable dinosaurs on these checks will make you smile! Order yours today!.
---

Diggin Dinosaurs Personal Checks
Dinosaur Personal Checks - What a cool way to be "diggin' it"! These whimsical dinosaur checks are sure to grab attention and open conversations you will "dig"! Unearth some fun with these ancient dinosaur personal checks!.
---

Dino Camo
Here is a fun set of checks with camo dinosaurs. Shades of green, tan and black in 4 fun images make up this pack..
---

Dino Skeleton Personal Checks
Discover dinosaur bones on these cool personal checks available only at CheckAdvantage!.
---

Dino Walk In The Park Personal Checks
3D Dinosaur Personal Checks - These realistic models will make you think that dinosaurs still exists! Imagine strolling down the park and seeing a Tyrannosaurus Rex or Triceratops! This series of four will entice your imagination to rediscovery the history of dinosaurs! .
---

Dinos & Reptiles Checks
Playful dinosaurs, turtles, snakes and lizards in retro colors add a little fun to your personal checks in this jurassic series!.
---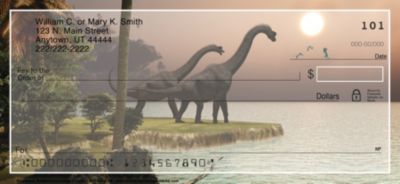 Dinosaur Checks - 4 Images
Make a BIG Statement with These Ferocious Jurassic Checks! - Triceratops, Diplodocus, Stegosaurus and T-Rex. Millions of years ago, these prehistoric animals roamed the land along with hundreds of other species when the world was an entirely different place. Now, travel back in time and admire the wonder of these extinct creatures when you use these dinosaur checks, from Bradford Exchange Checks. Four different designs feature incredible images of dinosaurs in various settings. Plus, you'll find these dinosaur personal checks are just as practical as they are tremendous. Brought to you exclusively by Bradford Exchange Checks, they're expertly re-created with premium-quality check printing. Don't let this opportunity go extinct - get your dinosaur art checks as soon as possible! Order now! Pricing shown is for 2 boxes of Singles..
---

Dinosaur Daze Personal Checks
Dinosaur Daze Personal Checks - Be transported back to the Mesozoic Era with these colorful prehistoric personal checks..
---

Dinosaur Personal Checks
Darling dinos inhabit a land before time on these unique checks. Click to see them now!.
---

Dinosaur Planet Personal Checks
Dinosaur Personal Checks - These graphically enhanced dinosaur scenes will terrify the weak hearted and excite the fanatics! This dinosaur planet features the great predator T-Rex in a natural setting, dominating his victim! The computer animated scenes will take your into your dinosaur fantasy! .
---

Dinosaur Species Personal Checks
You don't have to be a paleontologist to enjoy Dinosaur Species Checks, but it doesn't hurt, either! Click now to see them on CheckAdvantage!.
---

Dinosaurs Alive Personal Checks
.
---

Dinosaurs Galore
Colorful and fun toy dinosaurs are sprinkled about these cute checks. No stepping on these in the middle of the night!.
---

Dinosaurs Nextdoor Personal Checks
Dinosaur Checks - These beautifully rendered dinosaurs pack a big bite in these amazing dinosaur personal checks! Each of these prehistoric reptiles are painted in such detail it will give you a scare. These unique checks are totally dino-myte!.
---

Dinosaurs Roaming Forests & Lakes Personal Checks
Dinosaur Checks - These scary dinos are roaming all over these photo-realistic personal checks! Four intense scenes of huge prehistoric raptors roaming through forest looking for food. Get these great drawings as your personal checks today!.
---

Flying Dinosaurs Personal Checks
Dinosaur Checks - Dinosaur lovers rejoice! These four fun personal checks show majestic flying dinosaurs as they soar through the air. Have a little fun with your check writing!.
---

Holeman Dino Personal Checks
.
---

New Worlds Personal Checks
Dinosaur Personal Checks - These colorful personal checks will take you away to a prehistoric time! An image of fantasy and excitement, this series of four features dinosaurs enjoying what we can only imagine is their everyday activities. .
---

Prehistoric Daze Personal Checks
Prehistoric Personal Checks - Take a trip to a mystical land. The land of the dragon. These fantastic fictional prehistoric reptiles come to life on these personal bank checks..
---

Prehistoric Visions Personal Checks
Dinosaur Checks - Bring these giants back from their fossil form and take a peek into the Jurassic period. Big teeth, sharp claws and if you listen close, an ear-shattering growl. It's like time traveling every time you make a payment..
---

T-Rex Dinosaurs
Ferocious carniverous T-Rex dinos are the main event in this prehistoric personalized check series. There are four scenes to enjoy..
Check our our fabulous selection of DOG JEWELRY ~ Dog Breed-Themed necklaces, bracelets, watches, and more! Also STUFFED ANIMALS plush toy dogs in your choice of breeds!
---