Duck Checks
Order Duck personal checks online in a variety of stylish designs! These Duck bank checks can be used with any U.S. bank account, and are priced the same or less than what your bank would charge you for their generic checks.
Checkbook covers and return address labels are also available to match most of these Duck check designs.
---
---

Darling Ducklings
Brighten each and every day with this sunshine-infused personal check series featuring four adorable scenes of darling yellow ducklings..
---

Dopey Ducks Personal Checks
Dopey Ducks Personal Checks - Hear the quack of these personal bank checks featuring duck cartoon characters! This 4 series set of personal checks shows a father duck leading his little ducklings out for fishing trip on the lake. These checks will quack you up! .
---

Duck Lovers Personal Checks
Duck Lovers Personal Checks - Admire the beauty of American wildlife with these four picturesque scenes. In the Duck Lovers check series you will find varying breeds of ducks captured in their natural habitats. Bright white plumage, speckled coloring and silky feathers are all found in the detailed images of the Duck Lovers bank checks. .
---

Duck Personal Checks
Check out our stylish personal checks featuring designs of ducks! Click to.
---

Duck Stamp Personal Checks
These checks featuring vintage duck artwork will remind you to preserve our wetlands! Order yours now!.
---

Ducklings in Spring Personal Checks
Ducklings in Spring Personal Checks -Turn your boring checkbook from an ugly ducking to a beautiful swan with the purchase of these elegant bank checks! Graceful and refined, these checks represent the swan through all phases of life. From fuzzy little chick to elegant bird, these four personal checks capture the pond-dwelling swan at its best. .
---

Ducks at Daybreak Personal Checks
Ducks At Daybreak Personal Checks - Everyone loves watching the sunrise, and with this serene check set you can enjoy a sunrise anytime of day! With golden sun beams glistening on open waters, these four check scenes capture ducks, baby chicks, and elegant swans as they maneuverer through lakes and streams. Aglow with the natural light of the sun, these personal checks will truely brighten your day. .
---

Ducks In Morning Light Personal Checks
Ducks In Morning Light Personal Checks - The golden hue of morning sun on glistening waters sets a beautiful backdrop to the Duck Personal Checks. Various duck breeds are found throughout the four images, each with unique markings and vivid coloring. The Duck Check Series truly captures nature at its finest. .
---

Ducks on a Golden Pond Personal Checks
Ducks On Golden Pond Personal Checks - Glistening waters, peaceful wildlife and a golden sunrise make for the perfect checkbook back-drop. If you are someone that enjoys the natural beauty of the outdoors this check set is for you. With vibrant colors of golden yellow and deep orange set against the silhouette of ducks and swans, these personal checks make a nature-friendly statement. .
---

Ducks On Parade Personal Checks
Ducks On Parade Personal Checks - Duck Checks - Left, left, left, right, left. Here we go a marching in the rain--rain. Here we go a marching in the rain--rain. These personal bank checks are artistically drawn. Some look wet and others less rain, but they all go marching out, to proclaim, in the rain, of their fame..
---

Ducks Unlimited Personal Checks
Ducks Unlimited conserves, restores, and manages wetlands and associated habitats for North America's waterfowl. These habitats also benefit other wildlife and people. The Check Gallery proudly supports Ducks Unlimited, the leader in wetlands conservation..
---

Mallard Duck Checks
Mallard Ducks....
---

Misty Morning Personal Checks
Duck Personal Checks - These misty morning personal checks will make you crave the great outdoors! Featuring ducks and loons in a foggy morning lake scene, this series of four is a perfect for anyone who enjoys wildlife in its natural habitat! .
---

Rubber Duck Personal Checks
Take a look at these charming checks featuring your favorite bathtime toy - the rubber duckie!.
---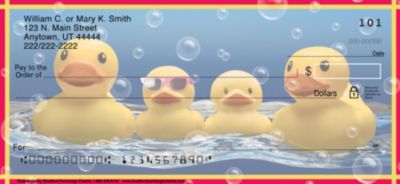 Rubber Ducky
Life Is Just Ducky with These Rubber Ducky Checks - The tub isn't the only place for these squeaky pals! The duck art on these checks showcase four unique, bubbly designs exclusively from Bradford Exchange Checks. The first design features four floating ducks surrounded by bubbles. The second design features a duck catching some sun on a beach, the third a duck next to an equally cute puppy and finally, a duck on a fencepost sporting a sunhat. Plus, you'll find these summery rubber duck check designs are just as practical as they are cute. Brought to you exclusively by Bradford Exchange Checks, they're expertly re-created with premium-quality check printing. Don't miss your chance to showcase your admiration for these iconic bath time pals. Get quacking and order your rubber ducky checks today! Pricing shown is for 2 boxes of Singles..
---

Rubber Ducky Personal Checks
Rubber Duck Checks - These rubber ducky personal checks might look cute and fun to play with, but we wouldn't recommend taking them into the bath with you! Everyone's favorite bath time toy, these four professionally photographed check designs are hilariously paradoxical. .
---

White Ducks Watercolor Personal Checks
White Ducks Watercolor Personal Checks - Showcase these lovely White Ducks personal checks and embrace the tranquility and stunning beauty of these beautiful birds each time you open your checkbook and write out a White Duck Personal Check!.
---

Wood Duck Personal Checks
Click to view nature themed personal checks featuring the beautiful wood duck. Order yours now!.
Check our our fabulous selection of DOG JEWELRY ~ Dog Breed-Themed necklaces, bracelets, watches, and more! Also STUFFED ANIMALS plush toy dogs in your choice of breeds!
---