Mouse Checks
Order Mouse personal checks online in a variety of stylish designs! These Mouse bank checks can be used with any U.S. bank account, and are priced the same or less than what your bank would charge you for their generic checks.
Checkbook covers and return address labels are also available to match most of these Mouse check designs.
---

Cat And Mouse Personal Checks
Cat And Mouse Personal Checks - Now I know, if I just press one of these buttons, this mouse will stop sleeping and want to play. Adorable! What better word to describe this furry cat and slick mouse? These personal bank checks are purr-fectly precious for any cat...or mouse lover. .
---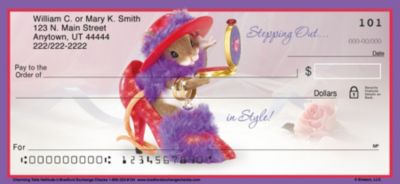 Charming Tails Hat-titude - 4 Images
Step Out in Style with These Charming Tails Hat-titude Checks - Why blend in when you can stand out? Artist Dean Griff's Charming Tails mouse art featured on these checks are sure to turn heads whenever you use them. Four flirty designs feature Maxine Mouse dressed to the nines and ready for some fun. Plus, the Maxine Mouse images on these checks are paired with a delightful quote filled with hat-titude - If the Hat Fits...Wear It!, Looking Good...Feeling Fine!, I'm Heaven Scent...And So Divine!, and Stepping Out...in Style! Simply splendid! Plus, you'll find these Charming Tails check designs are just as practical as they are precious. Brought to you exclusively by Bradford Exchange Checks, they're expertly re-created with premium-quality check printing. Don't miss your chance to sport some hat-titude with Maxine Mouse - get your Charming Tails Hat-titude checks as soon as possible! Order now! Pricing shown is for 2 boxes of Singles..
---

Joys Of Learning Personal Checks
.
---

Just Thinking Outside The Box Personal Checks
Motivation Personal Checks - Entrepreneurs, artists, managers, brokers, almost any profession benefits from someone that can step in and think outside the box! Most people resist taking the risk - this three check series encourages risktaking with sayings like:Think outside the boxOut of the box thinkingThinking out of the box.
---

Mighty Mice
These furry little rodents are either loved or hated. Share your love for these creatures with these cute checks..
---

Mischievous Mice Personal Checks
Silly cartoon mice scamper around on this funny check design. Take a look!.
---

Mousey Personal Checks
Cute cartoon mice make an adorable design for animal personal checks. Click to see them now!.
---

Temptations Personal Checks
Temptations Personal Checks - Does it ever just seem to good to be true! Be reminded that it is time to seize the opportunity each time you open your checkbook or write one of these light-hearted and fun Temptations Personal Checks!.
Check our our fabulous selection of DOG JEWELRY ~ Dog Breed-Themed necklaces, bracelets, watches, and more! Also STUFFED ANIMALS plush toy dogs in your choice of breeds!
---