Parrot Checks
Order Parrot personal checks online in a variety of stylish designs! These Parrot bank checks can be used with any U.S. bank account, and are priced the same or less than what your bank would charge you for their generic checks.
Checkbook covers and return address labels are also available to match most of these Parrot check designs.
---

Birds of Paradise Personal Checks
Perched above the lush landscape, these creatures bring incomparable beauty and personality to checks..
---

Colorful Macaws
These beautiful and stunning birds could not be more vibrant. Parrot lovers and bird enthusiasts alike will adore this colorful personal check series packed full of parrot and parakeet action..
---

Fun Feathers Personal Checks
Fun Feathers Personal Checks - Fun flocks towards these tropical feathered checks! Designed with the bird lover or animal lover in mind, these stylistic close-up checks feature contemporary patterning using the beautiful coats of nature's wild animals. A must-have wildlife lover check! Complete with 4 fun, feathery designs that are anything but fowl!.
---

Funky Parrot Personal Checks
The colorful character of a macaw parrot is captured on these unique personal checks!.
---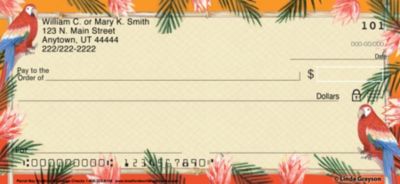 Parrot Bay Checks
Take a Trip to the Tropics with These Parrot Bay Checks - Carry around a piece of paradise with these Parrot Bay personal check designs from Bradford Exchange Checks! Four colorful designs showcase the lifelike artwork of tropical birds and lush vegetation by artist Linda Grayson around each border. As you tear off each check, you will uncover a tropical paradise with macaw checks, flamingo checks, cockatoo art checks and more!Plus, you'll find these Linda Grayson art checks are just as practical as they are colorful. Brought to you exclusively by Bradford Exchange Checks, they're expertly re-created with premium-quality check printing. Don't miss this terrific chance to carry around a piece of paradise - get your Parrot Bay checks as soon as possible! Order now! Pricing shown is for 2 boxes of Singles..
---

Parrot Party Personal Checks
Parrot Party Personal Checks - These bright parrots are really exquisite and are sure to brighten the day and catch the eye of anyone they meet! These tropical birds live in the tropical and subtropical regions of the world and despite many regulations still have diminished wild populations. Measures are being taken to conserve the habitats that are home to these remarkable creatures so that they can continue to thrive for years to come. Support these remarkable creatures with these stunning personal checks!.
---

Parrot Personal Checks
Colorful, intelligent and charismatic these bird personal checks pay tribute to parrots! Check them out!.
---

Parrot Personal Checks - Macaws Up Close Personal Checks
Up close and personal....
---

Parrots
The glory and spectacular beauty of these Parrots Personal Checks make them a wonderful way to get up close and personal with these magnificent birds. Four different poses showcase the variety of colors and the intricate patterns that make these birds so wonderful: bright canary yellow, peacock blue, emerald green, tangerine, cardinal red and black and white are the mixtures found on each in a variety of patterns and designs. With their curved beaks and round little heads they have remarkable plumage that is gorgeous to behold. Enjoy these Parrots Personal Checks and share them with all your friends and acquaintances..
---

Parrots On Parade Personal Checks
Parrots On Parade Personal Checks - A colorful parrot in full flight is soaring across this 4 series set of personal bank checks. Love nature? Love art? These personal bank checks are a perfect way to blend artistic color with your love for animals! You've heard parrots say, "Polly want a cracker," but have you heard them say, "bank checks?" .
---

Perky Parrots Personal Checks
Perky Parrots Personal Checks - Polly want some personal bank checks? This 4 series set of personal bank checks has varying images of vibrantly colored parrots, all dying to tell you what they think about these great personal checks! These checks are a great way to blend a tropical setting with a bird that everyone loves. .
---

Scarlet Macaw Personal Checks
Scarlet Macaw....
---

Tropical Birds Personal Checks
Tropical Birds Personal Checks - Take a trip to the tropics each time you open your checkbook and write out one of these colorful and mesmerizing Tropical Birds Personal Checks! .
Check our our fabulous selection of DOG JEWELRY ~ Dog Breed-Themed necklaces, bracelets, watches, and more! Also STUFFED ANIMALS plush toy dogs in your choice of breeds!
---