Rooster Checks
Order Rooster personal checks online in a variety of stylish designs! These Rooster bank checks can be used with any U.S. bank account, and are priced the same or less than what your bank would charge you for their generic checks.
Checkbook covers and return address labels are also available to match most of these Rooster check designs.
---

Cartoon Rooster Personal Checks
.
---

Cocky Roosters Personal Checks
Roosters Personal Checks - Cock-a-doodle-doo! These fun loving Cocky Rooster Personal Checks show just how beautiful these amazing creatures are. Their amazing colors really stand out in these photographs and every detail of their eyes, face and beak. If you wait on the Rooster for your wake up call, these checks might be the perfect ones for you! .
---

Country Rooster Personal Checks
.
---

Embry Rooster Personal Checks
.
---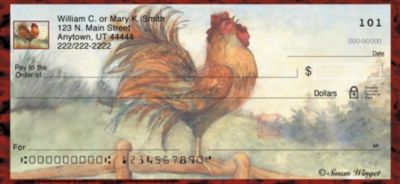 Le Rooster Paintings
Le Rooster Personal Checks Offer Country Charm You Can Enjoy Anywhere! - Cock-a-doodle-do! Whimsy and charm make each of these Le Rooster personal check designs a wake-up call for the senses! Available exclusively from Bradford Exchange Checks, they feature four delightful rooster portraits by artist Susan Winget. Art checks are a terrific expression of this acclaimed painter's unique style - notice how the luminous skies and soft grass textures highlight each rooster's gorgeous plumage. Plus, you'll find these unique designer personal checks are as practical as they are pretty - a real down-home pleasure you can enjoy anytime, anywhere. The Le Rooster personal checks are available exclusively from Bradford Exchange Checks, and are expertly re-created with premium-quality check printing. Hurry, order personal bank checks online and start enjoying your Le Rooster unique designer personal checks as soon as possible! Order now! Pricing shown is for 2 boxes of Singles..
---

Rise And Shine Personal Checks
Rise And Shine Personal Checks - Cock-a-doodle-doo! Rise and shine with these rooster themed personal bank checks! The vibrant colors and fun images of roosters waking the family up early are a great way to open your checkbook and get your day going! .
---

Rooster & Hen Personal Checks
Click to view personal checks featuring colorful designs of roosters around the farm. Order yours today from CheckAdvantage!.
---

Rooster Personal Checks
Give your finances a wake-up call with these fun rooster checks! Order yours now!.
---

Roosters & Hens Checks
These food-giving fowls have been an indispensable member of farm breeds. They are the center of poultry products, and these four check designs pay homage to their significance in our lives. Go country with this series of personal checks dedicated to life on the farm..
---

Roosters Fabric Wallet Style Checkbook Cover
Our quality-crafted Roosters Fabric Checkbook Cover is the perfect complement to your Artistic check order. The inside pockets provide room for your ID credit cards receipts and more..
---

Roosters Personal Checks
Captured beautifully in this artwork by Lisa Audit, a rooster's proud nature is elegantly captured to include its multi-colored plumage and distinct crown. Checks are available in one-part and duplicate check formats..
---

Roosters Side Tear Personal Checks
Their multi-colored plumage, distinct crown and confident stance convey the roosters' proud nature, which is captured beautifully in this artwork by Lisa Audit. The Roosters design is available in single and duplicate side tear check formats..
---

Ruff-N-Tuff Roosters Personal Checks
Roosters Checks- These guys are only cute when they're not waking you up at dawn. Either way, these personal checks with photographs of colorful roosters are fun and funny. If you like barnyard life, you will love these checks..
---

Standlee Rooster Personal Checks
.
Check our our fabulous selection of DOG JEWELRY ~ Dog Breed-Themed necklaces, bracelets, watches, and more! Also STUFFED ANIMALS plush toy dogs in your choice of breeds!
---