Sea Turtle Checks
Order Sea Turtle personal checks online in a variety of stylish designs! These Sea Turtle bank checks can be used with any U.S. bank account, and are priced the same or less than what your bank would charge you for their generic checks.
Checkbook covers and return address labels are also available to match most of these Sea Turtle check designs.
---

Sea Turtle Checks
Sea Tortoise Checks - Celebrate the lives of these hard working prehistoric natural treasures with these professionally photographed sea turtle personal checks! They may be slow going, but they want to be a part of your fast paced everyday life! Have fun with these tropical turtles in this fun, beach personal check series!.
---

Sea Turtles Checks by David Dunleavy
David Dunleavy`s inspirational style graces these checks. Showing his passion for undersea preservation, these checks will make a statement everywhere you use them..
---

Sea Turtles Personal Checks
Sea Turtles Personal Checks - Capture these vibrant sea turtles and share them every time you open your checkbook. These lovely creatures remind us how amazing our ocean is and the beauty that resides beneath the earth's surface. These checks are a reminder to take care of the earth and appreciate the beauty around you!.
---

Sea Turtles Under Water
Sea Turtles Under Water Personal Checks feature 4 images of swimming sea turtles. There are seven species of sea turtles that have been swimming the seven seas for more than 100 million years..
---

Sea Turtles With Global Warming Personal Checks
Sea Turtles With Global Warming Personal Checks - These images remind us how precious our planet is and the delicate balance that we have to keep in mind when we make decisions that impact our amazing Mother Earth. Share these captivating images every time you open your checkbook to remind everyone to make better decisions and save the amazing creatures that we share our planet with!.
---

Serene Sea Turtles
Amazing Sea Turtles share their habitat in their serene swim through the sea life..
---

Swimming Sea Turtles Personal Checks
Sea Turtle Personal Checks - If the giant sea turtles don't capture your attention then their beautiful scenery will! This series of four features the shelled reptiles in their natural aquatic home swimming around creating a masterful photo of bright blues, greens, and yellows. .
---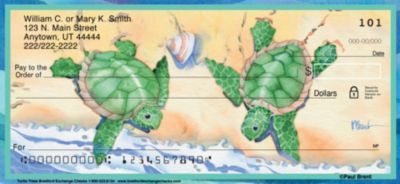 Turtle Tides - 4 Images
Break Out of Your Shell with These Turtle Tides Checks - If it's their slow walk, distinguishable shells or affinity for swimming that makes you love turtles, using these turtle art checks from Bradford Exchange Checks will be a day at the beach! Illustrated sea turtles on land and in water are featured on these checks in four colorful designs by artist Paul Brent. Whether it's two turtles playing in the sand, or five turtles taking a dip, these turtle art checks are cause for shell-ebration! Plus, you'll find these sea life check designs are just as practical as they are playful. Brought to you exclusively by Bradford Exchange Checks, they're expertly re-created with premium-quality check printing. Don't miss this terrific opportunity to showcase your love for sea turtles every day - get your Turtle Tides checks as soon as possible! Order now! Pricing shown is for 2 boxes of Singles..
Check our our fabulous selection of DOG JEWELRY ~ Dog Breed-Themed necklaces, bracelets, watches, and more! Also STUFFED ANIMALS plush toy dogs in your choice of breeds!
---