Tabby Cat Checks
Order Tabby Cat personal checks online in a variety of stylish designs! These Tabby Cat bank checks can be used with any U.S. bank account, and are priced the same or less than what your bank would charge you for their generic checks.
Checkbook covers and return address labels are also available to match most of these Tabby Cat check designs.
---

Affectionate Cats Personal Checks
Affectionate Cats Personal Checks - These personal bank checks are Purrr-ty as can be! This 4 series set of bank checks features varying images of kittens doing what they do best, being adorable! If you're a cat lover and can appreciate a beautiful feline when you see one, then these checks are for you! .
---

Alley Cats
Lovely images of pretty alley cats remind us daily to spay and neuter..
---

Black Cats Checks
Superstitious or not, pure black cats are very beautiful and we offer you 4 awesome images of Black Cats to enjoy while writing your personal checks..
---

Cat Nap Personal Checks
Cat Personal Checks - It looks like this cat is just waking up from a great dream! These delightful personal checks are perfect for anyone that loves watching cats when they are innocently asleep or restfully waking up to play!.
---

Cat Portrait Personal Checks
Cat Portrait Checks- Two stunning watercolor portraits of a feline with cat-itude. These personal checks will remind any cat lover of who is actually in charge. The bright, vivid orange will add a splash of color to you checkbook..
---

Feline Divas Personal Checks
Sleeping Cats Personal Checks - It looks like these two have a rough life! These charming kittens are getting in their "Cat Nap"! It seems like cats have no problem finding a good place to nap and these two are no exception! If you're a cat lover, these colorful and sweet personal checks might be your dream come true!.
---

Smile Personal Checks
Smile Personal Checks - These personal bank checks are the cat's meow! These personal bank checks display the image of an adorably lazy tabby cat relaxing on the floor. Puuurrrfect in any cat lover's checkbook. .
---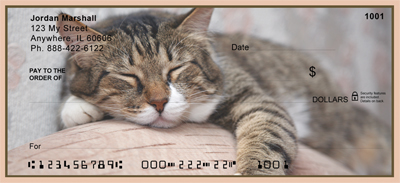 Tabby Cats & Kittens
It can really be a Cats life with these sweet kitten faces splashed on your personal checks..
---

Who Cares Personal Checks
Who Cares Personal Checks - These fun loving adorable cats are busy with their day without a worry in the world. Let it remind you to say Who Cares once in a while and take a moment for yourself. Share these delightful Who Cares Personal Checks each time you write out a bank check!.
---

Winning Isn't Easy Personal Checks
Rescue Animal Checks - These heart wrenching checks are centered around adorable rescue animals who've seen better days. You'll love the inspirational messages stamped on all four check designs!


Winning Isn't Easy
When the Going Gets Tough, the Tough Get Going
Go Ahead, Make My Day
What Doesn't Kill You Makes You Stronger
.
---

You Know The Look Personal Checks
.
Check our our fabulous selection of DOG JEWELRY ~ Dog Breed-Themed necklaces, bracelets, watches, and more! Also STUFFED ANIMALS plush toy dogs in your choice of breeds!
---