Unicorn Checks
Order Unicorn personal checks online in a variety of stylish designs! These Unicorn bank checks can be used with any U.S. bank account, and are priced the same or less than what your bank would charge you for their generic checks.
Checkbook covers and return address labels are also available to match most of these Unicorn check designs.
---

Carousels And Unicorns Personal Checks
Unicorn and Carousel Personal Checks - These images conjure up memories of a distant fairytale. Almost every little girl looks forward to the carousel rides and has daydreams of her very own unicorn. Make your fairytale a reality with these one-of-a-kind designs. .
---

Cute Unicorn Personal Checks
.
---

Enchanted Unicorns
Stunning images of beautiful unicorns almost makes them come to life. Sometimes you have to wonder if they really are fantasy..
---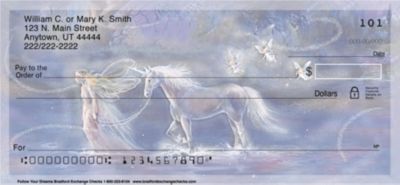 Follow Your Dreams 4 Scenes
Fantasy Unicorn and Fairy Checks Invite You Into a Fairy Realm with Every Personal Fairy Check - As you walk the dream-spun borders of the Land of Fairy, the starlit mist parts before you like glistening veils. Within the shimmering dewdrops appears a fairy princess and a mythical unicorn, glimmering as though spun from the opalescent mist, moonlight and frosty stars. Such is the wondrous magic of the first and only fantasy unicorn and fairy checks to feature the enchanting fairy art of Mimi Jobe, exclusively presented by Bradford Exchange Checks. Follow Your Dreams fantasy unicorn and fairy check designs are available only from Bradford Exchange Checks, and are expertly re-created with premium-quality check printing. Carry fairy magic in your pocket with Mimi Jobe's exquisite unicorn and fairy checks. Do you believe in fairy magic? Then order your Follow Your Dreams fantasy unicorn and fairy check designs now! Pricing shown is for 2 boxes of Singles..
---

Little Pony magic Personal Checks
Little Pony magic Personal Checks - Escape to a far off and distant place where magical ponies roam free in the clouds and in the fairy tale perfect green grass and mountain tops! If you need an escape every time you open your checkbook, then these magical ponies will do the trick. Share these Little Pony Magic Personal Checks with every personal check you write out!.
---

Moonlit Unicorns
Whether mythical or not these magnificent Moonlit Unicorns Personal Checks challenge you to decide if they are really just a myth. The beautiful white creatures that resemble a horse except for the long horn protruding from the center of their head feature flying manes of gold, brown or black with matching tails and have a majestic image that is enchanting. If you like to be a little mysterious and believe in ghosts and magic, then these lovely Moonlit Unicorns Personal Checks will be the ideal way for you to enchant everyone else and prove that unicorns are not just a legend..
---

Mystic Unicorns Personal Checks
Embrace the nobility, innocence, and purity of the mythical unicorn with Mystic Unicorns Personal Checks. Of all the mythological creatures in history, the unicorn is unique and rare in that it was not conceived in fear as most creatures were. These beautiful and magical beasts play a popular role in modern fantasy. Mystic Unicorns Personal Checks are available in single and duplicate check format. Matching address labels and a coordinating checkbook cover are also available..
---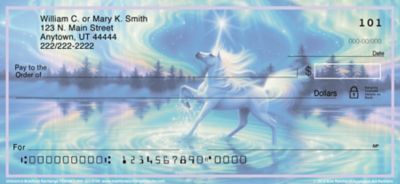 Mystical Unicorns 4 Scenes
Run Free in a Land of Enchantment with These Unicorns Checks - The unicorn roams through the forest as silently as the wind and is as pure as the still waters in which it plays. Many say a wish is granted to those who catch a glimpse, but only for the pure of heart does this wish come true. Marvel in the wonder of this magnificent creature by making the unicorn fantasy art by Kirk Reinert a part of your every day. Four fantastic designs on these Kirk Reinert checks capture the mystery and elegance of the unicorn as he gracefully wanders his magical world.Plus, you'll find these unicorn check designs are just as practical as they are enchanting. Brought to you exclusively by Bradford Exchange Checks, they're expertly re-created with premium-quality check printing. Don't miss this enchanting offer - get your Unicorns checks as soon as possible! Order now! Pricing shown is for 2 boxes of Singles..
---

Proud Unicorn Personal Checks
Click to see colorful images of unicorns on personal checks. Put this design in your purse or pocketbook to add a little magic. Order today!.
---

Unicorn In Moonlight Personal Checks
Unicorn In Moonlight Personal Checks - These magical personal checks will take you to a mystical and happy fairytale each time you open your checkbook and write out one of these beautiful Unicorn In Moonlight Personal Checks!.
---

Unicorn Magic Personal Checks
Unicorn Magic Personal Checks - These magical unicorns will dance around in a mystical place each time you open your checkbook. Showcase these fiery and energetic designs with each Unicorn Magic Personal Check you write!.
---

Unicorn Personal Checks
Capture the magic of the unicorn with these colorful personal checks from CheckAdvantage!.
---

Unicorn Sunset Personal Check
Unicorns....
---

Unicorn Universe Personal Checks
Unicorn Personal Checks - Unicorns are said to hold incredible power and have been a symbol of purity since ancient times. These mythical creatures come alive in this four image personal check set. Each design is unique and done in great detail to capture the luminous and ephemeral beauty and strength of these delicate beasts. Add some wonder and magic to your wallet with these fantastical illustrations..
---

Unicorn Visions Personal Checks
Unicorn Visions Personal Checks - Turn your checkbook into a fantasy land with these sparking, artistic illustrations! Each image features the mystical unicorn, drawn in incredible detail. The shimmering effects and twilight stars make this magical creature and her lovely fairy friend look even more otherworldly and extraordinary. Unicorns and fairies might not exist in reality but they can be a part of your every day life with these personal checks.
---

Unicorns - My Little Demon Checks
My Little Demon Personal Checks Series are a spoof of My Little Pony with a twist of humor and creativity. Unicorns Personal Checks have four different little demons/unicorns. As always, these checks are available at our everyday low prices..
---

Unicorns Leather Checkbook Cover
Stay organized and safeguard your checks with the Unicorns Leather Checkbook Cover designed to complement your Styles checks. This designer checkbook cover includes inside pockets to hold your checks check register and receipts in addition to multiple slots for your ID credit cards and photos..
---

Unicorns Personal Checks
Take a mythical and magical journey with these exquisite designs..
Check our our fabulous selection of DOG JEWELRY ~ Dog Breed-Themed necklaces, bracelets, watches, and more! Also STUFFED ANIMALS plush toy dogs in your choice of breeds!
---