Bichon Handbags
Order Bichon Dog Breed Handbags and Totes online in a variety of styles!
---
Bichon Frise Constant Companion Dog Lovers Handbag
Choose your favorite dog breed from a wide selection, including Yorkie, Pug, Bichon and more, and let this playfully sophisticated purse show off your personal style wherever you go.This stylish satchel-style handbag is expertly crafted of luxurious cotton blend tapestry fabric that showcases heartwarming portraits of your favorite breed. Real leather double handles and faux leather trim add elegance, and a detachable adjustable shoulder strap transforms your purse into a shoulder bag in an instant. The interior is fully lined and features multiple pockets. Protective metal feet and antique brass-finished hardware add durability and style. It's the perfect dog lover's handbag, and intense demand is expected, so hurry - order now!
---
Bichon Frise Tote Bag
Our Bichon Frise Tote Bag makes a wonderful accessory for anyone who shares the energy of the Bichon, and is always on the go. The marvelous lifelike portrait on both sides of these 17" X 17" Bichon Frise Tote Bags instantly marks you as an enthusiast of discerning tastes, and you will get years of use out of its high quality, machine washable 100% cotton construction.
---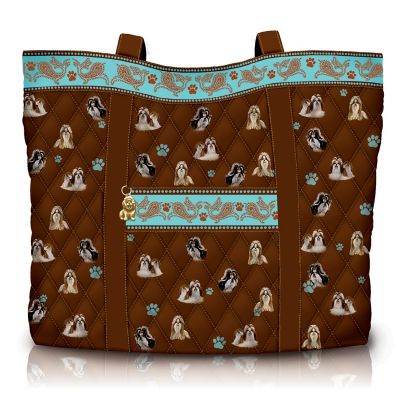 Faithful Friend Quilted Tote Bag
Choose a favorite breed to grace this chocolate brown carryall in a montage of playful poses, surrounded by pastel blue paisleys and paw prints.Expertly crafted of machine-washable fabric, the Faithful Friend quilted tote bag has a roomy interior with two convenient pockets, plus an outside zippered pocket that features a sculpted breed-specific golden-tone zipper pull. To help you stay as stylish as you are organized, you'll also receive 2 FREE cosmetic cases, each crafted of quilted fabric with handy zipper closures.
---