Pomeranian Handbags
Order Pomeranian Dog Breed Handbags and Totes online in a variety of styles!
---
Constant Companion Pomaranian Dog Lovers Handbag
Choose your favorite dog breed from a wide selection, including Yorkie, Pug, Bichon and more, and let this playfully sophisticated purse show off your personal style wherever you go.This stylish satchel-style handbag is expertly crafted of luxurious cotton blend tapestry fabric that showcases heartwarming portraits of your favorite breed. Real leather double handles and faux leather trim add elegance, and a detachable adjustable shoulder strap transforms your purse into a shoulder bag in an instant. The interior is fully lined and features multiple pockets. Protective metal feet and antique brass-finished hardware add durability and style. It's the perfect dog lover's handbag, and intense demand is expected, so hurry - order now!
---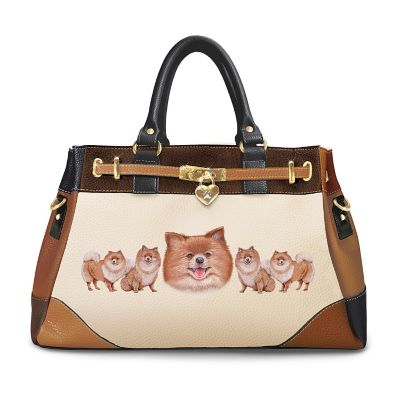 Fashion's Best Friend Pomeranian Handbag
Fashion's Best Friend Pomeranian Handbag
---
I Love My Pomeranian Crossbody Bag
With adorable Pomeranian art in full color on the front, as well as a metallic heart-shaped zipper pull, it's a must-have fashion bag that is packed with passion and personality.Exquisitely handcrafted of black faux leather, this stylish crossbody bag features an outside flap pocket with a brown paw print, a snap closure, compartments inside for a photo ID, credit cards and more. A smaller outer compartment unzips with a heart-shaped charm pull, which is engraved with the words "I Love My Pomeranian." The nylon-lined, zippered main compartment offers two more interior pockets, and there's a final zippered pocket on the back. Makes a perfect addition to any dog fan's wardrobe, and a wonderful Pomeranian lover gift.
---
Pomeranian Tote Bag
Our Pomeranian Tote Bag makes a wonderful accessory for anyone who shares the energy of the Pomeranian, and is always on the go. The marvelous lifelike portrait on both sides of these 17" X 17" Pomeranian Tote Bags instantly marks you as an enthusiast of discerning tastes, and you will get years of use out of its high quality, machine washable 100% cotton construction.
---