Pug Handbags
Order Pug Dog Breed Handbags and Totes online in a variety of styles!
---
Constant Companion Pug Lovers Handbag
Choose your favorite dog breed from a wide selection, including Yorkie, Pug, Bichon and more, and let this playfully sophisticated purse show off your personal style wherever you go.This stylish satchel-style handbag is expertly crafted of luxurious cotton blend tapestry fabric that showcases heartwarming portraits of your favorite breed. Real leather double handles and faux leather trim add elegance, and a detachable adjustable shoulder strap transforms your purse into a shoulder bag in an instant. The interior is fully lined and features multiple pockets. Protective metal feet and antique brass-finished hardware add durability and style. It's the perfect dog lover's handbag, and intense demand is expected, so hurry - order now!
---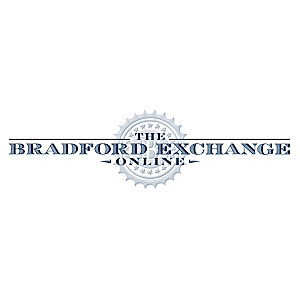 Fashion's Best Friend Pug Satchel Handbag
Superbly handcrafted of soft, pebbled faux leather in a chic color block combination of brown, tan, blonde and black, the front panel of each satchel-style handbag is colorfully printed with delightful artwork of your favorite breed in adorable poses. Choose your favorite dog breed, including Chihuahua, Dachshund, Pomeranian, Pug, Shih Tzu, and Yorkie.But there's much more to this chic style statement! A zippered main compartment, including one zippered pocket and two slip pockets, gold-toned hardware, double black handles, and a 60" removable, adjustable cross-body strap create an accessory that is as functional as it is fashionable. A locket-style heart charm with a sparkling paw print in the center adds an extra dazzling touch.
---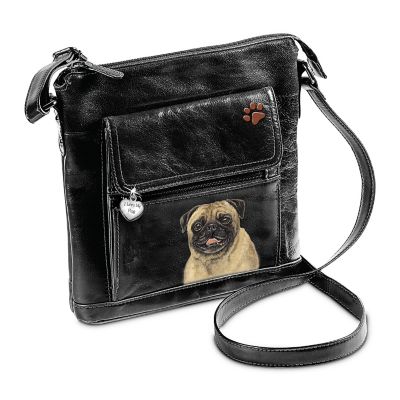 I Love My Pug Crossbody Bag
Featuring an adorable Pug portrait on the front and multiple zippered compartments for all your essentials, this fashionable tribute is a must for anyone who's ever loved a Pug!Finely handcrafted in supple black faux leather, this versatile crossbody purse features an outside flap pocket with a brown paw print accent, a snap closure and inner compartments for photo ID, credit cards and other on-hand essentials. Plus, this pocket's zippered outer compartment features a metallic heart-shaped zipper pull charm engraved with "I Love My Pug" for a sweet touch. You'll find two more interior pockets inside the roomy, nylon-lined main compartment, plus a final zippered pocket on the back.
---
Pug Canvas Tote Bag
Tote around your favorite pup wherever you go with our attractive bag. The amply sized canvas tote bag bears artist David Wenzel's rendition of the lovable Pug, framed in chic stripes and paw prints. 100% canvas Open top design Approximately 15" H x 20.5" W (38.1 x 52 cm)
---
Pug Tote Bag
Our Pug Tote Bag makes a wonderful accessory for anyone who shares the energy of the Pug, and is always on the go. The marvelous lifelike portrait on both sides of these 17" X 17" Pug Tote Bags instantly marks you as an enthusiast of discerning tastes, and you will get years of use out of its high quality, machine washable 100% cotton construction.
---