Basset Hound Personal Checks
Order Basset Hound checks online in a variety of stylish designs! These Basset Hound bank checks can be used with any U.S. bank account, and are priced the same or less than what your bank would charge you for their generic checks.
Checkbook covers and return address labels are also available to match most of these Basset Hound personal check designs.
---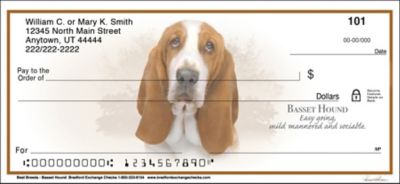 Basset Hound Best Breeds Personal Checks
These checks feature a delightful image of this beloved dog, along with characteristics about the breed, by artist Howard Robinson. This wonderful check design reads, BASSET HOUND Easy going, mild mannered and sociable.
---

Adorable Bassets Checks
4 alternating photos of basset hounds posing. Click to see them all!.
---

Basset Hound Fantasy Checks
4 photos of basset hounds wearing hats..
---

Basset Hound Puppy Personal Checks
4 alternting photos..
---

Basset Hounds Outdoors Checks
Four different images in each book of personal checks..
---

Bassets Being Bassets Checks
The droopy eyes that the hound dog is known for make this adorable pup so cute you could just hug this checkbook.
---

Basset Hounds Personal Checks
4 different rotating pictures of floppy-eared Basset Hounds in each book of personal bank checks. .
---
Basset Hound Checks
Floppy ears and droopy eyes are the well-known characteristics of these adorable pups. The sweet, gentle nature of these dogs add a charming twist to your checkbook with each check you write.
---