Beagle Checks
Order Beagle personal checks online in a variety of stylish designs! These Beagle bank checks can be used with any U.S. bank account, and are priced the same or less than what your bank would charge you for their generic checks.
Checkbook covers and return address labels are also available to match most of these Beagle check designs.
---
Beagles Personal Checks
This 4-scene design captures the playful and sweet personality of this beloved dog breed. Matching labels are also available. Spread a little love with every check you write.
---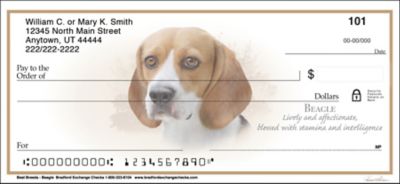 Best Dog Breeds Beagle Checks
Beagle Checks! This wonderful check design reads, BEAGLE Lively and affectionate, blessed with stamina and intelligence. Don't miss out on this great opportunity - get your Best Breeds - Beagle checks as soon as possible!.
---

Beagle Contentment Checks
4 alternating photos..
---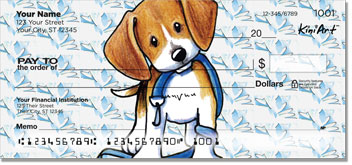 Cartoon Beagle Checks
4 colorful illustrations by KiniArt. Click to see them all!
---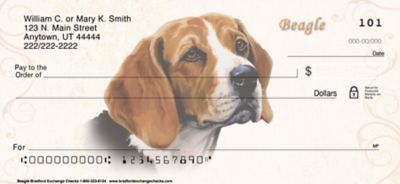 Beagle Paintings Personal Checks
This book of bank checks features four different portraits by artist Linda Picken..
---

Beagle Portrait Checks
Your choice of single or duplicate check formats..
---

Beagle Puppies Checks
4 cute close-up photos..
---

Beagle Top Breed Personal Checks
Top dog breeds photography by Faith A. Uridel..
---

Beagles Personal Checks
Four Beagle pictures featured in each book of our "Beagles Are Brilliant " printed bank checks..
---