Black Labrador Checks
Order Black Labrador personal checks online in a variety of stylish designs! These Black Labrador bank checks can be used with any U.S. bank account, and are priced the same or less than what your bank would charge you for their generic checks.
Checkbook covers and return address labels are also available to match most of these Black Labrador check designs.
---

Black Lab Personal Checks
Pictures of Black Labradors running around having fun.
---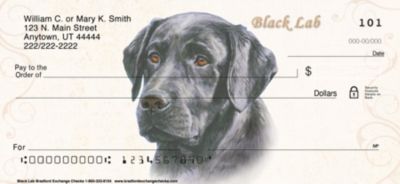 Black Lab Portrait Personal Checks
Art by Linda Picken..
---

Black Lab Puppy Checks
Personal checks with pictures of Black Lab Puppies..
---

Black Lab Puppydog Eyes Checks
4 different photos. Click to view them all!.
---

Black Lab Tribute Personal Checks
4 different poses..
---

Black Labradors Checks
4 alternating images..
---

Brilliant Black Labradors Checks
These printed bank checks feature pictures that reflect the intelligence of Black Labs..
---

Labrador Buddies Personal Checks
.
---

Labrador Puppy Personal Checks
4 photos of cute black lab pups..
---

Labradors Takin Care Of Business Checks
4 hilarious pics of a lab puppy making a mess with a roll of toilet paper..
---

Perky Labrador Puppy Checks
Close-up photo..
---

Smart Labrador Retrievers Checks
2 alternating images..
---

Working Labradors Personal Checks
Labs Retrieving!.
---