Bull Terrier Personal Checks
Order Bull Terrier checks online in a variety of stylish designs! These Bull Terrier personal checks can be used with any U.S. bank account, and are priced the same or less than what your bank would charge you for their generic checks.
Checkbook covers and return address labels are also available to match most of these Bull Terrier check designs.
---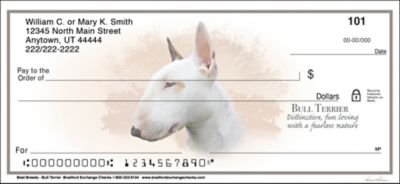 Best Dog Breeds Bull Terrier Checks
Bull Terrier Checks! This wonderful check design reads, BULL TERRIER Distinctive, fun loving with a fearless nature. Don't miss out on this great opportunity - get your Best Breeds - Bull Terrier checks as soon as possible!.
---

Adorable Bull Terriers Checks
2 different poses..
---

Bull Terrier Cartoon Series Personal Checks
4 illustrations by KiniArt. Click to see them all!.
---

Bull Terriers Personal Checks
4 different images. Click to see them all!.
---

Bull Terriers Up Close Checks
Bull Terriers are the adorable dog breed in this two image series.
---

My Bull Terrier Loves Me Personal Checks
Your bull terrier loves you! Enjoy these four, rotating designs featuring colorful backgrounds and sweet phrases to remind you of your best bud.
---