Chocolate Lab Checks
Order Chocolate Lab personal checks online in a variety of stylish designs! These Chocolate Lab bank checks can be used with any U.S. bank account, and are priced the same or less than what your bank would charge you for their generic checks.
Checkbook covers and return address labels are also available to match most of these Chocolate Lab check designs.
---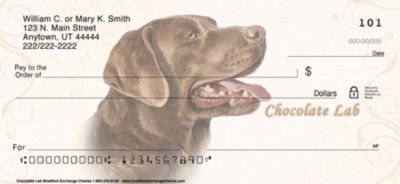 Chocolate Labrador Retriever Portraits Checks
Acclaimed artist Linda Picken has perfectly captured the loving, easy-going features of the Chocolate Labrador in four heart-melting portraits, making these "Chocolate Labrador" dog art bank checks the perfect tribute to your best furry friend. From their adoring expressions to their velvety ears and rich chocolate coats, the beautiful dogs showcased on these "Chocolate Labrador" dog lover checks will help keep your favorite dog close to your heart no matter where you go.
---

Chocolate Lab Alert
This set of personal checks features portrait images of chocolate labrador retrievers..
---

Chocolate Lab Puppy Checks
Four different pictures of these cute puppies in each book of printed bank checks..
---

Chocolate Lab Puppydog Eyes Checks
4 adorable close-up photos. Click to see them all!.
---

Chocolate Labrador Dog Checks
Each book of personal checks features four rotating images showing these handsome dogs in all their glory. .
---

Chocolate Labrador Retrievers Personal Checks
Four rotating images..
---

Labradors At Work
4 alternating images of labradors retrieving..
---