1950's Dog Costumes
Order 1950's Dog Costumes online in a variety of styles! Your dog will be the hit of the party when dressed up as 1950's in one of these adorable pet costumes.
---
50s Poodle Pooch Costume for Dogs
This 50s Poodle Pooch Dog Costume includes dress, and head tie.
---
Fifties Girl Pink Costume for Dogs
This 1950s Girl Pink Dog Costume includes the dress with pink skirt and black and white striped top, and also includes the hair bow.
---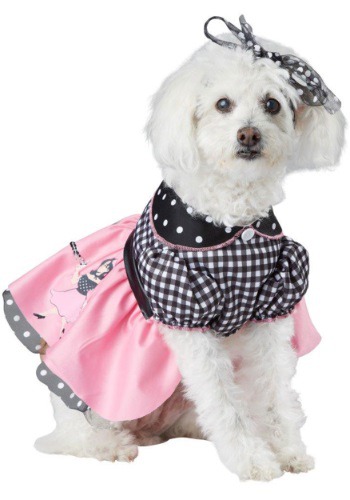 Poodle Skirt Costume for Dogs
You may think that your dog doesn't want to wear clothes but you're wrong. In fact, we think that you're pooch wants to be the best dressed doggy at the dog park. He or she will have bragging rights and all the other fur babies will bark with jealousy because a lot of dogs actually feel naked and would love a chance to dress up. Your precious pooch will look like they are ready to trot off to the sock hop to boogie down to all their favorite Elvis hits. Turn your pup into a retro pooch from the 1950's with this darling doggy costume. This poodle skirt dog costume comes with a gingham print dress that uses a Velcro tab that easily fastens around your fluff baby. The pink poodle skirt features polka dots and a 50's style waitress patch. Throw this poodle skirt on your poodle pup for an ironic twist that will make fellow dog lovers chuckle! No matter what breed your beloved ball of fur is, they'll feel special and loved in this pretty pet costume.
---
Costumes for PEOPLE at BooCostumes.com
Over 10,000 styles for babies, kids, and adults.

---
---