Batman Dog Costumes
Order Batman Dog Costumes online in a variety of styles! Your dog will be the hit of the party when dressed up as Batman in one of these adorable pet costumes.
---
Batman Costume for Dogs
This Batman Dog Costume includes character chest piece with Batman symbol, cape, headpiece, and belt. Let your dog participate in the festivities in a Batman Dog Costume! The Batman Dog Costume is 100% Polyester. Hand wash cool water. Line dry. No bleach. To get the best fit for your Batman Dog Costume, follow the guidelines below. MEASUREMENTS ARE IN INCHES* SMALL: 10-12 (25-30cm) MEDIUM: 14-16 (35-40cm) LARGE: 18-20 (45-50cm) *Measurements are taken horizontally by measuring from the collar to the base of the tail (where the tail connects to the body).
---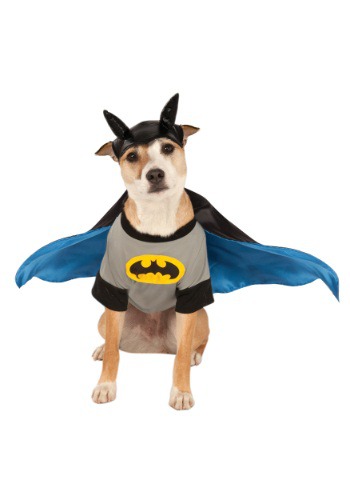 Batman Dog Costume
Gotham's gone to the dogs! If you envision your pet as a caped crusader, maybe it's time to let him suit up to help save the city. The Batsignal is shining, and this Batman costume will have him ready to battle any canine threat to the city. But just a word of warning, if you happen to have a Batmobile... you better be sure to do the driving. He might be a world class hero, but those paws still won't reach the pedals!
---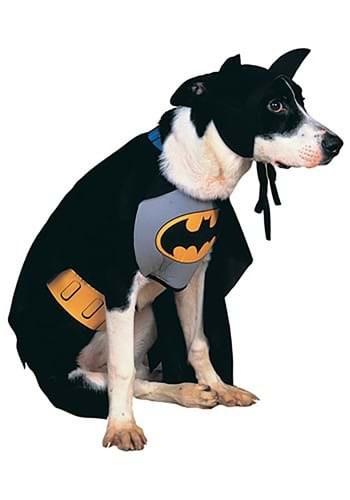 Classic Batman Dog Costume
Batman always had great companions by his side in his effort to fight crime in Gotham City but his most faithful is Ace the Bat-Hound. Ace, a German Shepherd, was found by the dark knight and taken in as his own guard dog. He even made this helpful pooch his own bat shaped hooded mask. From then on this crime fight canine has gone on adventures with the caped crusader and has helped him foil many super villain plans. Now your pup can look just like the Bat-Hound himself this Halloween!
---
Costumes for PEOPLE at BooCostumes.com
Over 10,000 styles for babies, kids, and adults.

---
---