Bride Dog Costumes
Order Bride Dog Costumes online in a variety of styles! Your dog will be the hit of the party when dressed up as Bride in one of these adorable pet costumes.
---
Bride Costume for Dogs
This Bride Dog Costume includes white veil, white dress with lace sleeves and soft hands holding a pink bouquet. The Bride Dog Costume is available in dog sizes Small, Medium, and Large. MEASUREMENTS ARE IN INCHES* SMALL: 10-12' (25-30 cm) MEDIUM: 14-16' (45-50 cm) LARGE: 18-20' (45-50 cm) *Measurements are taken vertically by measuring from the paws to the collar. 100% polyester, excluding trim. Hand wash. Cool water. Line dry. No bleach.
---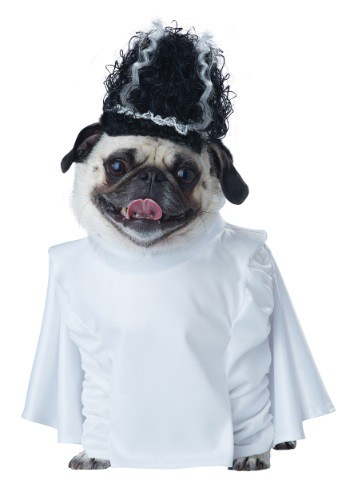 Bride of Frankenpup Costume for Dogs
Boy, did Dr. Frankenstein outdo himself with his last experiment! He decided to mix a woman's DNA with a dog's DNA and he came up with a monster of a creation. The sound that comes out of this creature when it 'barks' is terrifying. Its diet is also alarming. You'll have to find out what it eats for yourself! Bride of Frankenpup is kind of a handful at times, but you'll forget all about that when she cuddles with you.
---
Corpse Bride Costume for Dogs
Corpse Bride Dog Costume - Dog Costumes The Corpse Bride Dog Costume is available in Small, Medium, Large, and X-Large. Measure from back of neck to hind. Small 10-12 inches Medium 14-16 inches Large 18-20 inches X-Large 22-24 inches
---
Puppy Love Bride Costume for Dogs
This Puppy Love Bride Dog Costume includes the white veil, white dress with attached arms, and the attached red rose bouquet.
---
Costumes for PEOPLE at BooCostumes.com
Over 10,000 styles for babies, kids, and adults.

---
---