Santa Claus Dog Costumes
Order Santa Claus Dog Costumes online in a variety of styles! Your dog will be the hit of the party when dressed up as Santa Claus in one of these adorable pet costumes.
---
Santa Costume for Dogs
This santa costume for dogs is made of polyester and is red with white trim. Also includes Santa dog costume hat. The Santa Dog Costume is available in dog sizes Small, Medium and Large. MEASUREMENTS ARE IN INCHES* SMALL: 10-12" (25-30cm) MEDIUM: 14-16" (35-40cm) LARGE: 18-20" (45-50cm) *Measurements are taken horizontally by measuring from the collar to the base of the tail (where the tail connects to the body).
---
Santa Dog Costume
Santa Pet Costume Now your puppy can be festive with this jolly Saint Nick costume! Includes: Santa Claus tunic and hat. Available Sizes: Extra Small -2-6lbs, neck 6-9in, chest 8-11in, length 7-10in. Small -8-13lbs, neck 8-12in, chest 13-16in, length 11-13in. Medium -14-23lbs, neck 11-14in, chest 16-19in, length 13-15in. Large -24-32lbs, neck 13-16 in, chest 19-22in, length 16-18in. Extra Large - 32-40lbs, neck 14-18in, chest 21-25in, length 18-21in.
---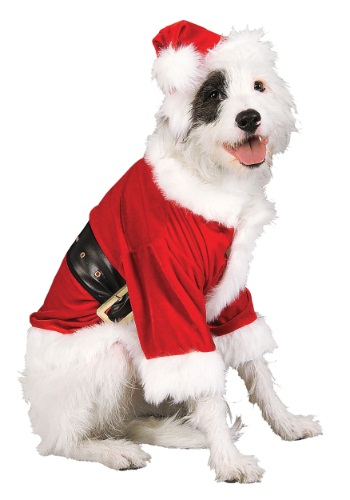 Santa Dog Costume
Arf Arf! Santa Claus is coming to town! Whether you feel like the mythical Santa has always been a dog or just transmogrifies into a dog in the off season, dressing your canid companion in this Santa costume will bring Christmas joy into your household. Available in different sizes for dogs roughly 7" to 28" neck to tail.
---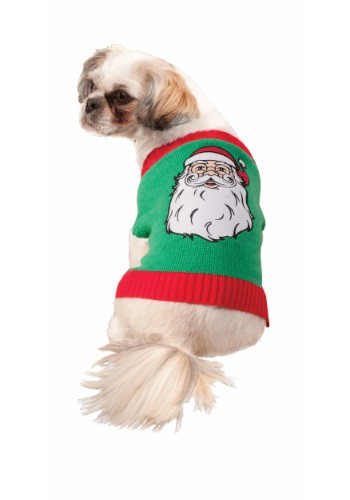 Santa Pet Sweater
Dogs may not understand or care who Santa Claus is or what Christmas is about. But they do understand when their humans are celebrating something. So let your four-footed, furry friends join in the party! This Santa Pet Sweater has an image of Santa's face on its back.
---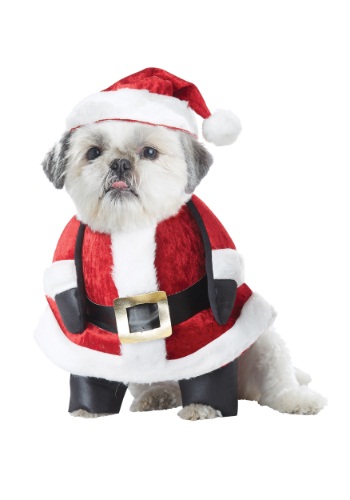 Santa Pup Costume for Dogs
Your dog may not know (or care!) who Santa is or what Christmas is all about. But he can still get into the holiday spirit in this Santa Pup Dog Costume.He'll love the soft velour fabric and the padded belly. Ho, ho, ho! (Or, maybe, woof, woof, woof!)
---
Costumes for PEOPLE at BooCostumes.com
Over 10,000 styles for babies, kids, and adults.

---
---