Spider Dog Costumes
Order Spider Dog Costumes online in a variety of styles! Your dog will be the hit of the party when dressed up as Spider in one of these adorable pet costumes.
---
Giant Spider Costume for Dogs
This Giant Spider Dog Costume includes furry brown spider bodysuit with adjustable neck and belly strap.
---
Spider Harness Costume for Dogs
This Spider Harness Dog Costume includes harness.
---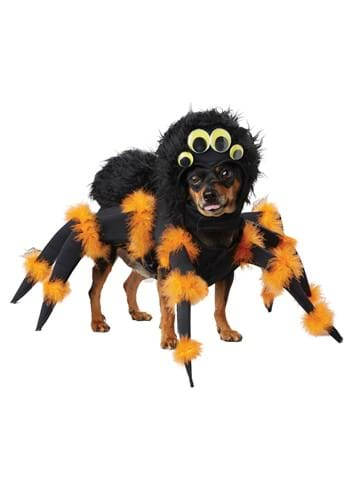 Spider Pup Costume
Let us introduce you to the newest monster to hit the Halloween scene. A frightening terror, this beast comes out from the basement, the forest, or even the trunk of your car, and when you meet him... you're sure to freeze right in your tracks. The demented look of this twisted beast can only be one monster... the Spider Pup!That's right, this spider and dog hybrid is known for making super sized spider webs as well as for eating bowl after bowl of puppy chow nonstop... but we think he might have sinister ambitions as well. (We just really don't want to know what happens when you get stuck in that web!) If you'd like to transform your canine friend into this diabolical demon, just get him this unique and detailed spider costume for pets. Your pup will have a nightmarish look for the big puppy party, but the good news is that his wicked transformation will be entirely reversible. Just take this fun plush costume off, and we're sure that your pet will easily be able to discard the memory that their reign of terror created. And we're sure they'll just as easily be able to put aside the insatiable bloodlust that they felt when they became this amped up spider beastie. Well, we do want to be upfront, we're pretty fairly sure they won't have a taste for blood after you put the costume away. Yeah, reasonably confident...
---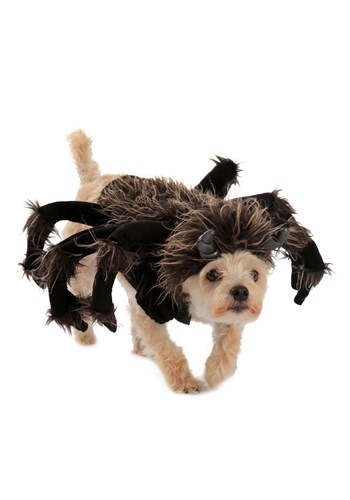 Tarantula Costume for Dogs
Some people like spiders as a pet. Other people like dogs as a pet. With this Tarantula Dog Costume, you don't have to choose between the two! This cute little puppy outfit "arachnifies" your doggy, so you can have a dog-spider roaming around your home.
---
Costumes for PEOPLE at BooCostumes.com
Over 10,000 styles for babies, kids, and adults.

---
---