Wizard of Oz Dog Costumes
Order Wizard of Oz Dog Costumes online in a variety of styles! Your dog will be the hit of the party when dressed up as Wizard of Oz in one of these adorable pet costumes.
---
Cowardly Lion Costume for Dogs
This Cowardly Lion Dog Costume includes bodysuit with hoodie.
---
Cowardly Lion Costume for Dogs
Cowardly Lion Dog Costume - Wizard of Oz Costumes - This Cowardly Lion Dog Costume includes the Lion costume with Badge of Courage medallion and the headpiece.
---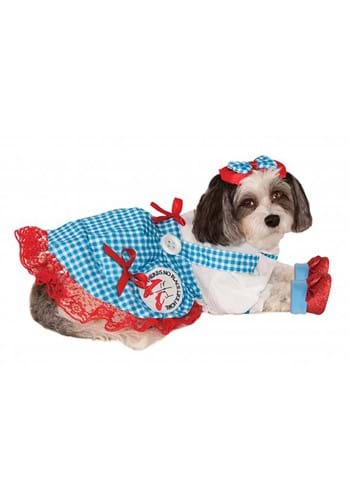 Dorothy Dog Costume
Can you imagine this charming little pooch prancing down the yellow brick road? How adorable! The munchkins will look like trolls compared to this well-groomed canine. Be ready for tons of photos because while your walking your Dorothy dog on Halloween night, tons of people will ask to take a picture. You don't see a puppy from Oz everyday!
---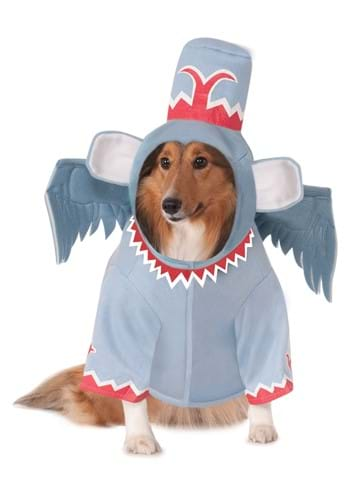 Flying Monkey Dog Costume
This must be one confused little pup. He thought at one time he was a dog, now he is being told that he is a money...that flies! What!? He is totally confused, but cute nonetheless! Turn your doggie into one of your little flying henchman with this Flying Monkey Pet Costume.
---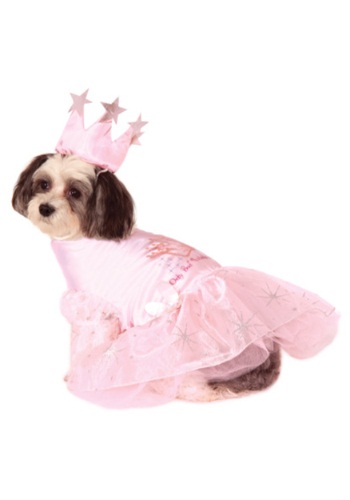 Glinda Dog Costume
Is your dog a good pooch or a bad pooch? You better decide because you don't want a house to be dropped on him! Turn your pup into the whimsical 'good witch' from The Wizard of Oz with this Glinda Pet Costume. Who knows, your dog just may have magical powers all of a sudden!
---
Lil' Scarecrow Dog Costume
---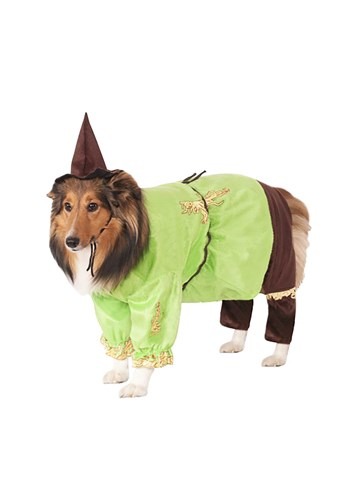 Scarecrow Dog Costume
When this pup gets to Oz, he's not going to ask the Wizard for a brain because he already has one. In fact, this furry little guy has a very smart brain. He can do plenty of tricks like chasing his tail, playing fetch, and his favorite, playing dead. Since this dog already has a clearly functional brain, he will be requesting a bone from the Wizard. Word on the street is the Wizard gives out the tastiest bones. Maybe it's that Oz magic? After he receives his bone, he promises to go home because even puppies know 'there's no place like home!'
---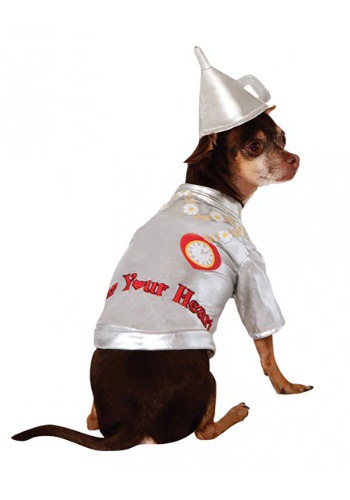 Tin Man Costume for Dogs
Some dogs have amazing talents. Some of them know how to surf. Others can skateboard. Your dog? He's an actor! He's ready to make his debut in your version of The Wizard of Oz as the legendary Tin Man. This dog costume recreates the classic character in an outfit that fits your little pooch's frame. Just make sure you get your doggie his own dressing room for the show to get his best performance.
---
Wicked Witch Hat Dog Costume
---
Costumes for PEOPLE at BooCostumes.com
Over 10,000 styles for babies, kids, and adults.

---
---