Yoda Dog Costumes
Order Yoda Dog Costumes online in a variety of styles! Your dog will be the hit of the party when dressed up as Yoda in one of these adorable pet costumes.
---
Star Wars Yoda Costume for Dogs
Yoda Dog Costume - Size matters not! Star Wars fans will love this Yoda Dog Costume! Yoda Costume includes headpiece & jumpsuit with attached arms. This is an officially licensed Star Wars product. MEASUREMENTS IN INCHES* General dog costume measurements are as follows: XS Neck 12-13, Chest Front 5-7, Neck to Hem 10, Chest/ Belly 16-17; S Neck 14-16, Chest Front 8-10, Neck to Hem 15, Chest/Belly 20-23; M Neck 17-19, Chest Front 10-12 Shoulder to Hem 17, Chest/Belly 24-28; L Neck 20-2, Chest Front12-14, Shoulder to Hem 20, Chest/Belly 30-33; XL Neck 24-28, Chest Front 14-16, Neck to Hem 24, Chest/Belly 34-38. PLEASE NOTE: These are flat garment measurements not measurements of average dog who would normally wear this size.
---
Star Wars Yoda Ears Dog Headband
---
Star Wars Yoda Dog Costume
The costume shirt consists of a beige jacket with hood, two attached arms with green hands, and a brown body piece with attached green feet. The shirt is secured by a velcro strap at the back of the neck piece. The legs feature an attached strap with an elastic band on the back to slip your pet's front legs into. The green headpiece is detailed with two pointed ears. It is secured by an elastic band worn under the jaw. When worn, the costume gives the appearance that a full body Yoda is walking along your side this Halloween, Comic Con, or Star Wars-themed events.
---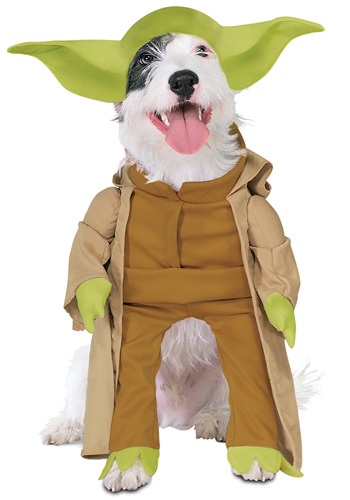 Yoda Costume for Dogs
The Jedi order is full of the wisest beings to ever exist in the galaxy. Of those members of the order Yoda is considered to be most loyal. He is always there to help out his fellow Jedi. Now your loyal best friend can look just like the amazing Yoda in this adorable Star Wars pet costume.
---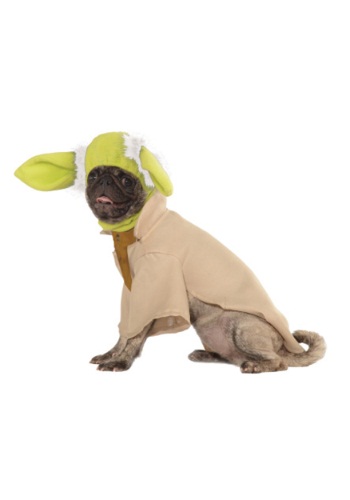 Yoda Dog Costume
Your dog. Talk like Yoda, does he? Needs this Star Wars pet costume, he does. Share his wisdom, he will. Ok, so your pet might not have the skills of a Jedi Master and he might not want to live on Dagobah for 19 years, but he can still help spread the wisdom of the order by hanging out at your party in this cool costume.
---
Costumes for PEOPLE at BooCostumes.com
Over 10,000 styles for babies, kids, and adults.

---
---