Dalmatian Personal Checks
Order Dalmatian checks online in a variety of stylish designs! These Dalmatian bank checks can be used with any U.S. bank account, and are priced the same or less than what your bank would charge you for their generic checks.
Checkbook covers and return address labels are also available to match most of these Dalmatian check designs.
---

Dalmatian Dogs Checks
4 different poses. .
---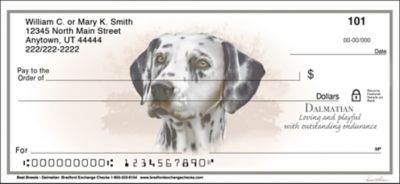 Best Dog Breeds Dalmatian Checks
This wonderful check design reads, DALMATIAN Loving and playful with outstanding endurance. Don't miss out on this great opportunity - get your Best Breeds - Dalmatian checks as soon as possible!.
---

Dalmatian Photos Personal Checks
Four pictures of these lovely dogs just doin' their thang. .
---

Dalmatian Puppydog Eyes Checks
4 close-up photos. Click to view them all. (Please note: these are mis-labeled as "Great Dane" on the printer's order page. You will receive Dalmatian checks as pictured, not Great Danes.).
---

Dalmatians At Play Checks
4 color photos..
---

Dandy Dalmatians Personal Checks
2 alternating close-up photos..
---

Darling Dalmatian Checks
4 different colorful illustrations. Click to see them all!.
---

Delightful Dalmatians Series 2 Personal Checks
4 images of these handsome dogs..
---

Dalmatian Portraits Checks
2 alternating up-close images.
---