Doberman Pinscher Checks
Order Doberman Pinscher personal checks online in a variety of stylish designs! These Doberman Pinscher bank checks can be used with any U.S. bank account, and are priced the same or less than what your bank would charge you for their generic checks.
Checkbook covers and return address labels are also available to match most of these Doberman Pinscher check designs.
---

Alert and Watching Doberman Checks
4 alternating photos of a handsome dobie..
---

Doberman Pinscher Personal Checks
Features four different rotating pictures of these dogs running around and doin' their thang..
---

Doberman Pinscher Puppy Checks
4 cute pics of a doberman pup having fun..
---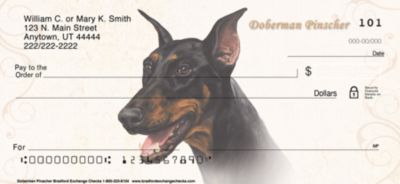 Doberman Portrait Painting Personal Checks
2 portraits by artist Linda Picken..
---

Doberman Portraits Checks
4 color photos..
---

Doberman Poses Personal Checks
4 alternating color photos..
---

Fun Dobermans Personal Checks
4 photos including puppies having fun..
---

Smiling Doberman Personal Checks
Each book of bank checks is printed with four different pictures of handsome Dobies..
---
Doberman Pinscher Checks
These large, athletic and playful dogs are perfectly captured in these Doberman Pinscher Checks. Perfect for dog lovers everywhere, matching address labels are also available.
---
Check our our fabulous selection of DOG JEWELRY ~ Dog Breed-Themed necklaces, bracelets, watches, and more! Also STUFFED ANIMALS plush toy dogs in your choice of breeds!
---