Goldendoodle Checks
Order Goldendoodle personal checks online in a variety of stylish designs! These Goldendoodle bank checks can be used with any U.S. bank account, and are priced the same or less than what your bank would charge you for their generic checks.
Checkbook covers and return address labels are also available to match most of these Goldendoodle check designs.
---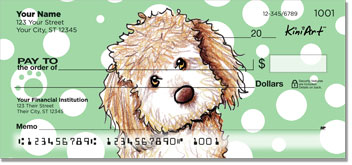 Goldendoodle Dogs Personal Checks
Whether it's a golden doodle, labradoodle, schnoodle, or aussiedoodle, these mutt mixes of poodles and other breeds make perfect pets.
---