Golden Retriever Checks
Order Golden Retriever personal checks online in a variety of stylish designs! These Golden Retriever bank checks can be used with any U.S. bank account, and are priced the same or less than what your bank would charge you for their generic checks.
Checkbook covers and return address labels are also available to match most of these Golden Retriever check designs.
---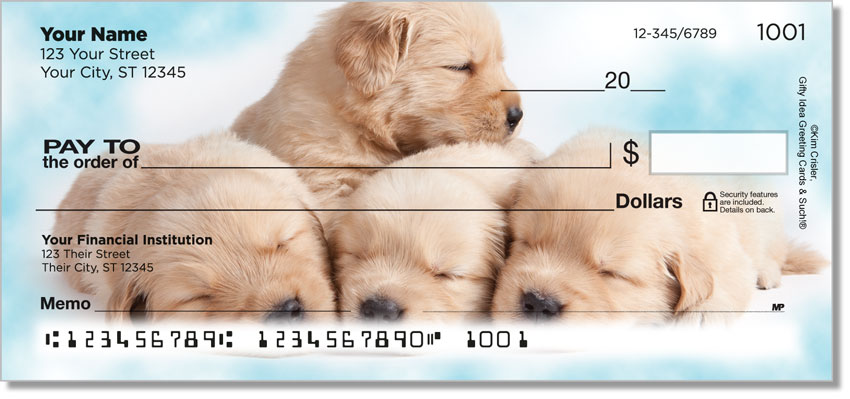 Sleepy Golden Retriever Puppies Checks
4 alternating photos of adorable golden pups.
---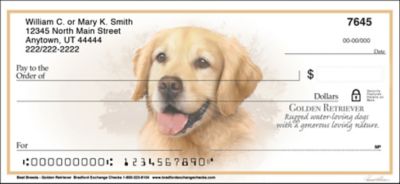 Best Dog Breeds Golden Retriever Checks
Golden Retriever Checks! This wonderful check design reads, GOLDEN RETRIEVER Rugged water-loving dogs with a generous loving nature. Don't miss out on this great opportunity - get your Best Breeds - Golden Retriever checks as soon as possible!.
---
---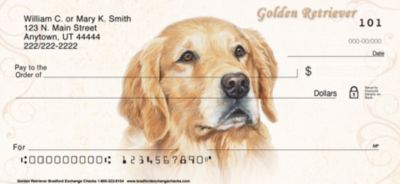 Golden Retriever Art Checks
Dog portraits by artist Linda Picken..
---

Golden Retriever At Play Checks
4 photos of a golden retriever playing outdoors..
---

Golden Retriever Photo Checks
Top dog breeds photography by Faith A. Uridel. Matching checkbook cover and return address labels available..
---

Golden Retriever Puppies Personal Checks
4 adorable photos of Goldie pups..
---

I Love Retrievers Checks
4 different illustrations. Click to see them all!.
---

Playful Golden Retrievers Personal Checks
This set of personal checks features four different pictures of these dogs running around having fun..
---

Golden Retriever Royalty Checks
He is clearly the king of his house and the couch certainly makes for a comfortable throne.
---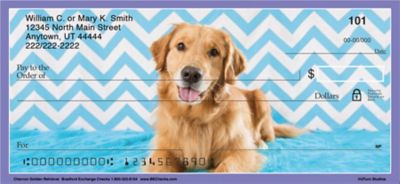 Chevron Golden Retriever Personal Checks
Striking the perfect pose is an adorable pup ready for a close-up atop a plush teal blue rug.
---
Golden Retrievers Checks
Simply adorable, the Golden Retriever Checks capture the happy-go-lucky spirit of the Golden Retriever with 4 photo scenes of this wonderful dog breed.
---