Greyhound Checks
Order Greyhound design personal checks online in a variety of styles! These Greyhound bank checks can be used with any U.S. bank account, and are priced the same or less than what your bank would charge you for their generic checks.
Checkbook covers and return address labels are also available to match most of these Greyhound check designs.
---

Graceful Greyhounds Checks
4 different images..
---

Greyhound Faces Personal Checks
Four different portraits of greyhounds rotate in this series giving you a fresh doggy face to smile at each time you write a personal check.
---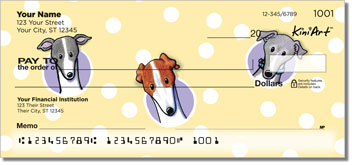 Cartoon Greyhounds Personal Checks
4 different illustrations by KiniArt. Click to see them all!
---

Greyhound Diva Personal Checks
4 different poses..
---
---

Greyhound Impressions Checks
4 charcoal drawings..
---

Racing Greyhound Checks
Whether you like the sport or the breed, this series features four outdoor photographs of this agile animal. Make a wager on these personal checks today.
---

Greyhound Top Dog Breed Personal Checks
.
---

Greyhounds At Work Personal Checks
4 photos of racing greyhounds in action..
---

Greyhounds Outdoors Personal Checks
4 different images..
---

Handsome Greyhounds Checks
4 photos of these wonderful dogs and puppies..
---

Greyhound Hood Ornaments Personal Checks

---