Jack Russell Terrier Personal Checks
Order Jack Russell Terrier themed personal checks online in a variety of stylish designs! These Jack Russell Terrier checks can be used with any U.S. bank account, and are priced the same or less than what your bank would charge you for their generic checks.
Checkbook covers and return address labels are also available to match most of these Jack Russell Terrier check designs.
---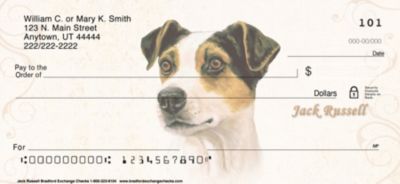 Jack Russell Portraits Checks
These Linda Picken "Jack Russell Terrier" art checks are a delight to carry, showcasing this acclaimed artist's unique talent for animal portraiture. The Jack Russell Terrier's legendary intelligence and spirit shines from each image, captured in bright eyes, perky ears and quizzical expressions, making these "Jack Russell Terrier" dog breed checks a practical pleasure you'll enjoy using every day.
---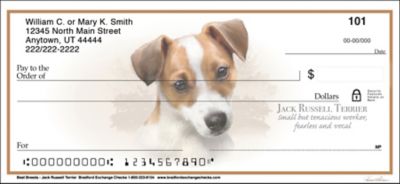 Best Dog Breeds Jack Russell Terrier Checks
Jack Russell Terrier Checks! This wonderful check design reads, JACK RUSSELL TERRIER Small but tenacious worker, fearless and vocal. Don't miss out on this great opportunity - get your Best Breeds - Jack Russell Terrier checks as soon as possible!
---

Bed Bath and WAY Beyond Checks
4 cute pics of these little troublemakers.
---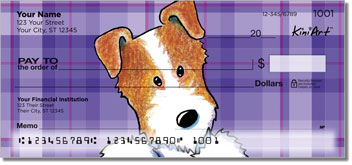 Jack Russell Terrier Cartoon Checks
4 cute illustrations by KiniArt. Click to see them all!
---

Jack Russell Puppy Love Checks
4 alternating photos of an adorable Jack Russell puppy..
---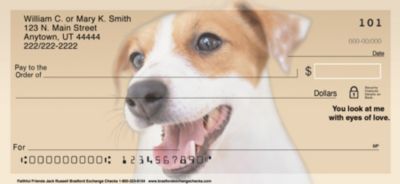 Jack Russell Terrier Dog Checks
Faithful Friends" dog art series.
---

Jack Russell Terriers Checks
4 different color photos.
---

Jack Russell Terriers Checks
This set of personal checks features four different pictures of these playful pups.
---

Mischievous Jack Russells Personal Checks
Four rotating pictures of these frisky little devils running around and doin' their thang.
---

Jack Russell Terrier Photos Checks
4 alternating photos
---

Jack Russell Terrier Puppies Personal Checks
This 4 check series of Jack Russell puppy checks captures the magic of little puppies.
---