Labrador Retriever Checks
Order Labrador Retriever personal checks online in a variety of stylish designs! These Labrador Retriever bank checks can be used with any U.S. bank account, and are priced the same or less than what your bank would charge you for their generic checks.
Checkbook covers and return address labels are also available to match most of these Labrador Retriever check designs.
---

Beach Labs Checks
4 different poses..
---

Labrador Buddies Checks
4 alternating images..
---

Labrador Retriever Art Checks
4 portraits by artist Char Reed featuring one each of a black, yellow, and chocolate lab, plus all three together..
---

Loyal Companion Labrador Art Personal Checks
4 different drawings. Click to see them all!.
---

Watercolor Lab Checks
2 alternating images featuring one yellow and one chocolate lab..
---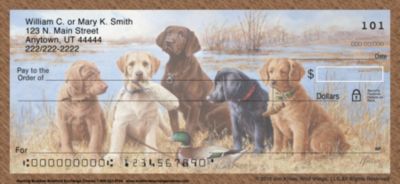 Labrador Retriever Hunting Buddies Personal Checks
These beautifully detailed dog checks showcase art by award-winning artist Jim Killen. Four unique full-color designs feature different breeds of hunting dogs at rest and in the thrill of the hunt in the great outdoors.
---
Labrador Retriever Checks
These 4-scene Labrador Retriever Checks are perfect for anyone who loves dogs. Each scene features a colorful photo of a Labrador and captures the gentle and cheerful disposition of these dogs.
---
ALSO >>> Black Labrador | Chocolate Lab | Yellow Lab
---
Check our our fabulous selection of DOG JEWELRY ~ Dog Breed-Themed necklaces, bracelets, watches, and more! Also STUFFED ANIMALS plush toy dogs in your choice of breeds!
---