Maltese Checks
Order Maltese personal checks online in a variety of stylish designs! These Maltese bank checks can be used with any U.S. bank account, and are priced the same or less than what your bank would charge you for their generic checks.
Checkbook covers and return address labels are also available to match most of these Maltese check designs.
---

Cartoon Maltese Series 1 Checks
Cute drawings by KiniArt. 4 different images. Click to view them all!.
---

Cartoon Maltese Series 2 Personal Checks
4 artistic renderings by KiniArt. Click to see them all!.
---

Loveable Maltese Checks
4 different poses..
---

Maltese All Gussied Up Checks
2 alternating images..
---

Maltese Dogs Checks
Oft called 'Ye ancient dogge of Malta...'.
---

Maltese Dogs Personal Checks
Also known as the Maltese Lion Dog. This series of checks features 4 lovely photos..
---

Maltese Madness Personal Checks
4 alternating images of an adorable Maltese puppy..
---

Maltese Personal Checks
4 alternating images..
---

Maltese Photos Personal Checks
4 different images..
---

Maltese Portrait Personal Checks
By artist Linda Picken..
---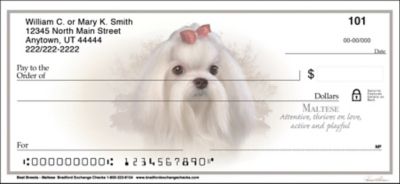 Best Dog Breeds Maltese Checks
MALTESE Attentive, thrives on love, active and playful . These fabulous checks are truly an adorable expression of your favorite breed!Plus, you'll find these dog personal checks are just as practical as they are a proud display of your canine appreciation. Brought to you exclusively by Bradford Exchange Checks, they're expertly re-created with premium-quality check printing. Don't miss out on this great opportunity - get your Best Breeds - Maltese checks as soon as possible!.
---
Check our our fabulous selection of DOG JEWELRY ~ Dog Breed-Themed necklaces, bracelets, watches, and more! Also STUFFED ANIMALS plush toy dogs in your choice of breeds!
---