Mastiff Checks
Order Mastiff personal checks online in a variety of stylish designs! These Bull Mastiff bank checks can be used with any U.S. bank account, and are priced the same or less than what your bank would charge you for their generic checks.
Checkbook covers and return address labels are also available to match most of these Bullmastiff check designs.
---

Bull Mastiffs Personal Checks
4 different photos..
---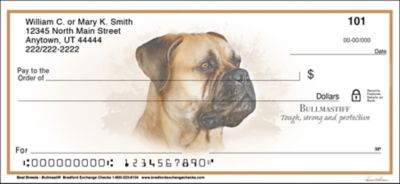 Best Dog Breeds Bullmastiff Checks
Bullmastiff Checks! - Do you want to celebrate your loving pet everywhere you go? Well of course you do, they are your best friend! Now, honor your faithful companion each and every day when you use these dog checks from Bradford Exchange Checks. These checks feature an image of this beloved dog, along with characteristics about the breed, by artist Howard Robinson. This wonderful check design reads, BULLMASTIFF Tough, strong and protective. Don't miss out on this great opportunity - get your Best Breeds - Bullmastiff checks as soon as possible!.
---

Bull Mastiffs Up Close Personal Checks
4 alternating Images..
---

Bullmastiff Poses Checks
4 images featuring a mix of adult dogs and pups..
---

French Mastiffs Checks
4 alternating Images..
---

Massive Mastiff Checks
Your choice of single or duplicate check formats..
---

Mastiff Outdoors Personal Checks
4 playful pics..
---
---
Mastiff Checks
From puppies to full grown Mastiffs, this 4-scene check design is full of charm and affection with these large and lovable pets.
---