Pekingese Personal Checks
Order Pekingese dog personal checks online in a variety of stylish designs! These Pekingese bank checks can be used with any U.S. bank account, and are priced the same or less than what your bank would charge you for their generic checks.
Checkbook covers and return address labels are also available to match most of these Pekingese check designs.
---

Pekingese Dog Checks
4 photos. .
---

Pekingese Fun Checks
Set against an orange and fluffy explosion, his little darling stands out with her green bow against that furry face to make you swoon..
---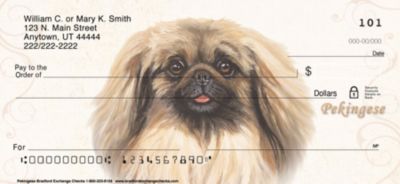 Pekingese Portraits Checks
By artist Linda Picken..
---

Pekingese Princess Checks
Whether its her majesty staring up at you in a priceless crown or the charming little pink bow tying the fur out of that pretty face, this series of four images will captivate your heart..
---

Perky Pekingese Personal Checks
The regal stature of Pekingese is obvious in this series of personal checks..
---