Pit Bull Checks
Order Pit Bull personal checks online in a variety of stylish designs! These Pit Bull terrier bank checks can be used with any U.S. bank account, and are priced the same or less than what your bank would charge you for their generic checks.
Checkbook covers and return address labels are also available to match most of these PitBull check designs.
---

Cartoon Pit Bull Series Puppies Checks
4 illustrations by KiniArt. Click to see them all!.
---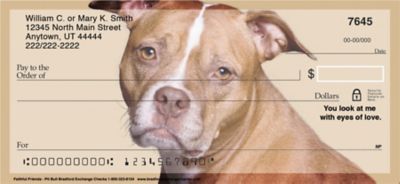 Pit Bull Faithful Friends Personal Checks
Pit Bulls are famous for their heart-melting personalities, and now you can share a touch of that pit bull charm with these dog checks from Bradford Exchange Checks速. Each check design features special pit bull art along with the saying, "You look at me with eyes of love". Everyone will fall in love the moment they see this sweet pit bull - who could resist that honest face or those imploring eyes!
---

Pit Bull Checks
4 photos of playful pits..
---

Pit Bull Dogs Personal Checks
These fun loving and sweet pitt bulls are one of the sweetest dogs around and these portraits capture there loving and inquisitive sense..
---

Pit Bull Friends Checks
4 different photos of these handsome pooches..
---

Pit Bull Illustrations Personal Checks
4 artistic images..
---

Pit Bull Puppies Checks
4 different images looking pretty-n-pit..
---

Pit Bulls Again Checks
Alternating check images of 3 adult pits and one puppy..
---

Pit Bull Pals Personal Checks
Pit Bulls continue to light up our lives with their big heads, big smiles, and big hearts. Enjoy these four, rotating designs featuring the lovable breed.
---

Pit Bull Pups Checks
Four alternating images featuring adorable, pitbull puppies are here to tug at your heartstrings.
---
Pit Bull Checks
The sweet faces of these adorable dogs are sure to bring a smile to your face. Matching address labels are also available. Order your personal checks today.
---
MORE as well as T-Shirts, Gifts, Decor at PitBullPersonalChecks.com.
---