Saint Bernard Plush Stuffed Animals
Order Saint Bernard Dog Breed Plush Stuffed Animal Toys online in a variety of styles!
---
Ty Classic Yodeler Saint Bernard Dog
Ty Classic 13" Yodeler Saint Bernard Dog Cuddle up with this adorable TY beanie baby a great gift for any ocacion.
---
Ty Classic 32 inch Yodel Saint Bernard Dog
Saint Bernard Plush Stuffed Animal by TY named "Yodels" is made with super soft plush. An adorable face, this Saint Bernard Stuffed Animal measures 32"L x 13"W x 6"H as shown.All of our products are made by top manufacturers who care about toy safety, quality and value. Your order will ship factory-fresh directly from our warehouse to your door. We carefully inspect and beautifully package every order before shipment to ensure that you receive high quality products that are delivered accurately every time you order. A note about product sizes: The product sizes listed are provided by the manufacturers. It is customary in the plush industry to measure stuffed animals stretched from head to foot (or nose to tail, depending on the creature). So, no matter how the item is posed in the picture, the size given indicates the overall length of the item. We understand that product descriptions are very valuable when purchasing items online and we hope this helps. We want you to be completely satisfied with your order. We stand behind every product we sell with a money back guarantee.
---
Ty Classic 21 inchYodels Saint Bernard Dog
Ty Classic 21" Yodels Saint Bernard Dog What an adorable face! This Saint Bernard Plush Stuffed Animal by TY is made with irresistibly soft plush, and is perfect for holding, cuddling and loving!
---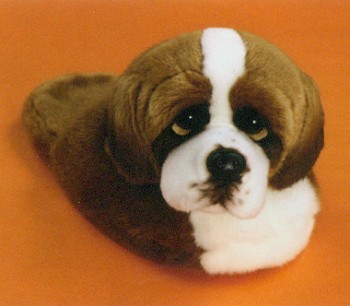 Stuffed St Bernard Slippers
Premium quality soft plush St. Bernard slipper. Comfort foam non-slip soles. Puppie's head turns 360 degrees. Child size 7 Inches Long.
---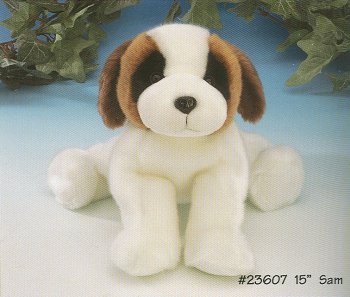 Stuffed Saint Bernard
Floppy soft stuffed Saint Bernards from SKM are made with the perfect combination of fiberfill and beans to pose them on a lap or in a backpack. YOUR CHOICE OF SMALL 8½ inches long or LARGE 15 inches long.
---
Saint Bernard Stuffed Animal
This Saint Bernard Stuffed Animal is Stuffed with cuteness, adorableness and sweet, sweet dreams! When you receive your St Bernard Plush Animal you will be taken aback with how wonderfully it is made (we use the finest materials) and how much it seems to beg to be held. The St. Bernard Stuffed Animal measures approximately 16 inches.
---