Sheltie Plush Stuffed Animals
Order Sheltie Dog Breed Plush Stuffed Animal Toys online in a variety of styles!
---
Shetland Sheepdog Plush Stuffed Animal 16 Inch
They say good things come in small packages and you will bring home a truly great thing in the Shetland Sheepdog Plush Stuffed Animal. Washable and tailor made for hugs for kids ages 18 to 24 months and up, you will want to pick up this darling Shetland Sheepdog Plush Stuffed Animal for everyone in your family. Add a dash of color to your playroom with this adorable plush animal.
---
Shetland Sheepdog Plush
Nothing beats the exceptional look and quality of our Shetland Sheepdog Plush Animal. Among the finest made, you will be provided with great satisfaction and long lasting enjoyment. Why not pamper yourself or give a loved one a Shetland Sheepdog gift to show them how much you care. The Shetland Sheepdog Plush Animal will make the perfect gift for any Shetland Sheepdog lover. Shop with confidence, because all products come with a 100% customer satisfaction guarantee. Click over now to see the big selection of Shetland Sheepdog gifts we offer.
---
Douglas 16 inch WHISPY SHELTIE
All of our products are made by top manufacturers who care about toy safety, quality and value. Your order will ship factory-fresh directly from our warehouse to your door. We carefully inspect and beautifully package every order before shipment to ensure that you receive high quality products that are delivered accurately every time you order.
---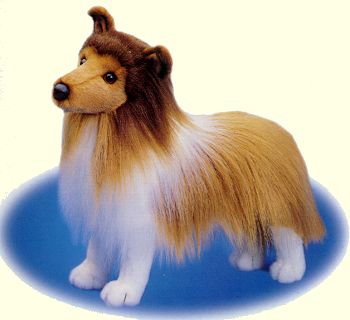 Dixie the Sheltie Stuffed Animal
Carefully crafted to look like a real sheltie from Douglas. 18 Inches Long.
---