Pug Checks
Order Pug personal checks online in a variety of stylish designs! These Pug bank checks can be used with any U.S. bank account, and are priced the same or less than what your bank would charge you for their generic checks.
Checkbook covers and return address labels are also available to match most of these Pug check designs.
---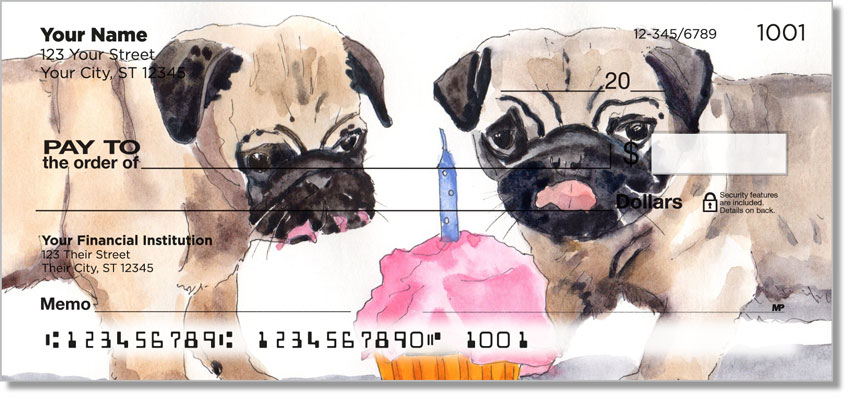 Painted Pugs Checks
4 colorful watercolor paintings of adorable pugs.
---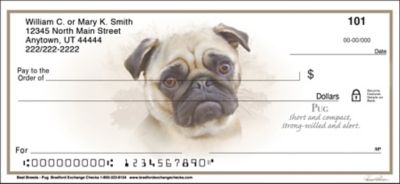 Best Dog Breeds Pug Checks
Pug Checks! This wonderful check design reads, PUG Short and compact, strong-willed and alert. Don't miss out on this great opportunity - get your Best Breeds - Pug checks as soon as possible!.
---

Cute Pugs Personal Checks
4 adorable poses..
---

Fun Pugs
4 photos of pugs running around in the park..
---

LOL Pugs Checks
4 little pugs posing in cute little costumes..
---

Playful Pug Checks
4 different images; 2 sleeping and 2 at play..
---

Precious Pugs Checks
Who can argue with the absolutely adorable faces and convincing eyes!.
---

Priceless Pugs Checks
You'll be everybody's favorite when you carry these puppy checks in your pocketbook..
---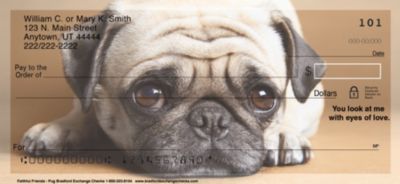 Pug Dog Checks
Faithful Friends" dog art series. Caption of "You look at me with eyes of love"..
---

Pug Mugs Checks
4 alternating photos..
---

Pug Photos Checks
Top dog breeds photography by Faith A. Uridel..
---

Pug Pop Art Checks
Colorful photo filter effect; 4 different images..
---

Pug Portraits Personal Checks
4 different images..
---

Pug Puppies Checks
The orange background makes this little dog just "pug" out at you!.
---

Pug Wallpaper Checks
4 different images..
---

Pugs Rule Checks
4 cute illustrations; Click to see them all!.
---

Sleepy Pugs Checks
Pugs go from sleeping and napping to wide awake...almost....
---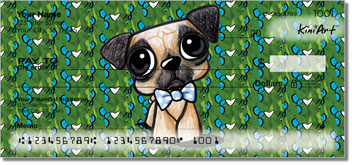 Pugs by KiniArt Personal Checks
4 adorable cartoon illustrations; Click to see them all! Matching cover and return address labels also available with this design.
---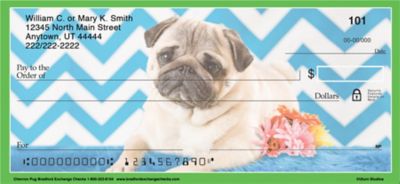 Chevron Pug Personal Checks
Colorful red, pink and yellow daisies sweeten the high-fashion scene from beside our furry friend.
---
Pug Checks
Sweet faces and cute bug eyes will bring a smile to your face each time you write a check with these Pug checks.
---
Get Pug apparel, stationery, coffee mugs, fridge magnets, home decor and gifts at PugAddict.com.
---