Shih Tzu Personal Checks
Order Shih Tzu checks online in a variety of stylish designs! These Shih Tzu bank checks can be used with any U.S. bank account, and are priced the same or less than what your bank would charge you for their generic checks.
Checkbook covers and return address labels are also available to match most of these Shih Tzu check designs.
---

Shih Tzu Puppy Pranks Checks
This four check series catches the cute antics of a naughty puppy, and reminds you that sometimes you just need to laugh so you don't start cryin'!
---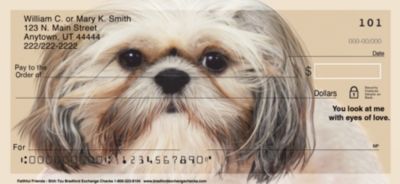 Shih Tzu Art Personal Checks
Faithful Friends" dog art series. Caption of "You look at me with eyes of love"..
---

Cute Shih Tzus Checks
Four different pictures of these little guys running around and making faces..
---

Shih Tzu Personal Checks
Four different poses printed on this set of bank checks..
---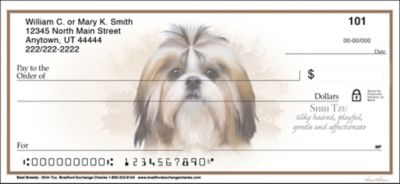 Best Dog Breeds Shih Tzu Checks
Shih Tzu Checks! This wonderful check design reads, SHIH TZU Silky haired, playful, gentle and affectionate. Don't miss out on this great opportunity - get your Best Breeds - Shih Tzu checks as soon as possible!.
---

Shih Tzu Photo Checks
Top dog breeds photography by Faith A. Uridel. Matching return address labels and printed leather cover available..
---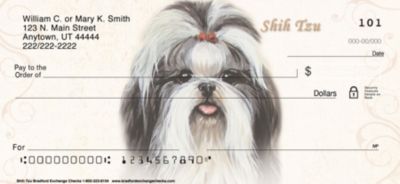 Shih Tzu Portrait Personal Checks
Acclaimed wildlife artist and friend to animals Linda Picken captures the Shih Tzu's eager charm..
---

Shih Tzu Portraits Series 1 Personal Checks
4 alternating images..
---

Shih Tzu Portraits Series 2 Checks
4 close-up photos..
---

Shih Tzu Puppies Personal Checks
4 color photos..
---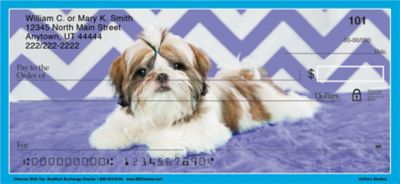 Chevron Shih Tzu Personal Checks
Striking the perfect pose is an adorable pup ready for a close-up atop a plush purple rug. And to elevate the tail-wagging factor, a matching geometric purple and white chevron pattern background was added to the colorful design bordered in blue.
---
Shih-Tzu Checks
This 4-scene design captures the sweet and playful nature of these beloved and endearing dogs.
---