Springer Spaniel Checks
Order Springer Spaniel personal checks online in a variety of stylish designs! These Springer Spaniel bank checks can be used with any U.S. bank account, and are priced the same or less than what your bank would charge you for their generic checks.
Checkbook covers and return address labels are also available to match most of these Springer Spaniel check designs.
---

English Spaniel Personal Checks
An adorable chocolate brown and white dog who appears to be lost in a field..
---

English Springer Spaniel Personal Checks
4 different poses..
---

More English Spaniels Checks
English Springer Spaniels Personal Checks feature the droopy eared and brown freckle faced doggy in four profile pictures..
---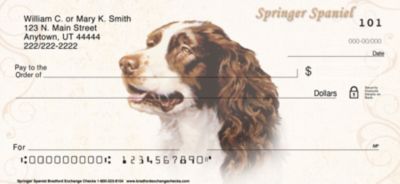 Springer Spaniel Portrait Checks
These Linda Picken Springer Spaniel art checks capture every sweet nuance of this delightful breed..
---

Springer Spaniels Personal Checks
4 different photos. Matching address labels also available..
---