Welsh Corgi Checks
Order Welsh Corgi personal checks online in a variety of stylish designs! These Welsh Corgi bank checks can be used with any U.S. bank account, and are priced the same or less than what your bank would charge you for their generic checks.
Checkbook covers and return address labels are also available to match most of these Welsh Corgi check designs.
---

Corgi Dog Checks
Four images of cute corgi dogs..
---

Corgi Dogs and Pups Checks
Built low to the ground these delightful dogs... 4 different images; Click to see them all!.
---

Pembroke Welsh Corgi Checks
Four different poses..
---

Corgi Pups Keith Kimberlin Personal Checks
These adorable Corgi pups will give you something to smile about, featured on four different colorful backgrounds.
---

Pembroke Welsh Corgi Personal Checks
4 alternating color photos..
---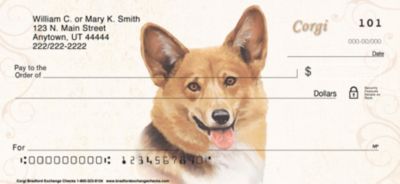 Welsh Corgi Portrait Checks
You'll spot all the Corgi characteristics you love so much in the sweet faces of these Linda Picken Welsh Corgi art checks..
---
Welsh Corgi Checks
Featuring puppies and full-grown dogs, these checks are perfect for anyone who loves these amazing canines. Matching address labels are also available. Order your Welsh Corgi personal checks today!
---